By CLARA BENDAYAN
Have you ever dreamed of being able to dispense a delicious cupcake from a machine, while strolling the streets of New York City? If so, your dream has come true.
Sprinkles, a Los Angeles-based bakery, recently installed a cupcake-dispensing ATM on New York's Upper East Side and it's everything you never knew you were missing in your life. Did I mention that it's fully functional 24 hours of the day to satisfy your sweet tooth at any hour?
If you're not in the mood for cupcakes, the machine also dispenses cookies. In true Los Angeles & New York City fashion, it also dishes out dog treats so your pampered pup doesn't feel left out of the party.
The sweet machine apparently holds up to 760 pastries, which are restocked daily to ensure maximum freshness. There are 20 different flavors ranging from red velvet, Cuban coffee, banana dark chocolate, and cinnamon sugar.
Shelling out $4.50 for a delectable cupcake doesn't seem so bad when you're saving yourself time in line at a bakery. Plus, who can stop themselves from trying out an ATM machine that pops out mouth-watering treats?
As you've probably guessed, this hot ticket machine is receiving crowds of people lining up to get a taste. The company has done an excellent job in creating an innovative way to get people to try their product. How many people would turn down the opportunity to try out the a revolutionary cupcake dispensing ATM machine?
There's a certain sense of excitement in watching your cupcake appear before you that speaks to the inner child in all of us. The best part is that the fact that you receive your cupcake from a machine doesn't take away the personal touches you'd be getting in a bakery. A sort of mechanical curtain raises, and you see your cupcake perfectly perched atop a little tray, beautifully tucked inside a decorative box with the company's logo on top.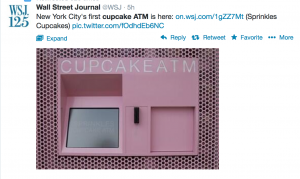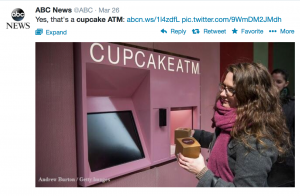 Social media have been creating a huge buzz and are aiding in promoting the bakery's latest invention, bringing in new customers every day.
News reporters have been crowding around the machine since its opening, eager to get shots of this novel way of purchasing bakery-made treats.
People and news companies have also been taking to Twitter to express their love of this machine.
A Twitter-based news account, NowThisNews, posted a stop-motion vine showing people how the machine works.
Other news accounts tweeting about this fascinating machine include HuffPostStyle, ABCNews, and Wall Street Journal.
What are you waiting for?
Hop into a cab and make your way over to 61st and Lexington Avenue to indulge in this highly innovative way to eat delectable, gourmet cupcakes!