Posted February 7, 2018
By KATHERINE CERAVOLO
University of Miami's PRSSA chapter provides students with the opportunity to visit local public relations firms and get the inside scoop of the day-to-day operation from the owners themselves.
Another benefit from joining the society is allowing potential internship or job positions arise, such as Sabrina Pizziol, a sophomore majoring in public relations, experienced.
Pizziol said she "absolutely recommends PRSSA to any communication major who just wants more opportunities to network and learn about the career."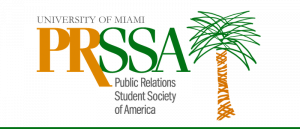 Having attended multiple tours, Pizziol has left her resumes at each one.
Last year, a few months after attending the Kreps DeMaria tour, she received a phone call, asking for an interview for a possible internship position.
Three weeks and two interviews later, she was offered the position. In the telephone interview with Pizziol, she explained how her understanding of the public relations world has tripled since joining the Kreps DeMaria Team for a semester.
The society spreads awareness of these opportunities through breezeway events, classroom presentations, and fundraisers. The application is as easy as can be: filling out a form with some information with a one-time fee of $60.
While the society focuses on public relations and marketing firms, membership is open to anyone who may be interested in not only expanding their knowledge of the industry but also experiencing the day-to-day activities of the communications world.
The tour, such as the last one for fall semester at Carma Connected, included a meet-and-greet with the teams that make up the firm: social media and public relations, as well as an information session that explains the inside operations that run everyday in the workplace. Students are welcomed to ask questions and participate throughout the tour.
The chance for internship positions and potential employment is possible as PRSSA encourages students to bring multiple copies of resumes to hand out at the end of the tour.
PRSSA allows students to find answers to many questions a communications student may have, such as where he/she wants to work and in what capacity of the particular area he/she desires.
PRSSA pushes for students to tour firms that focus on an array of industries, such as lifestyle, real estate, travel and entertainment. Experiencing the different types of public relations approaches, between office atmospheres and teamwork approaches, serves as valid comparisons to what different companies offer to their employees and their clients.
The diverse types of firms allow students to see what field of public relations and what type of atmosphere for the field they see themselves working in.
In fall 2017, members had the ability to tour two popular firms: Rbb Communications and Carma Connected PR & Marketing Agency.
While Rbb has clients such as accounting firm Kaufman Rossin and law firm Gunster, Carma Connected focuses on clients such as Saks Fifth Avenue and Frost Museum of Science.
Students are permitted to hand in resumes only to the firms they see themselves working for or to every firm to see if an internship position is available.
Many students have ended up interning or receiving a job opportunity from the firms that host the tour. This past fall, Rbb Communications accepted two students for a part-time internship program this spring semester.
By hosting these tours, students will be able to draw an image of what to expect when entering the real world of public relations. PRSSA may serve as the connection for receiving interview opportunities by associating oneself with the society, firms and agencies give special attention to these members.
By being a part of PRSSA, students show their dedication and true interest in the career.
Nathaniel Derrenbacher, vice president of professional events co-chair for PRSSA, considers his membership the main reason for most of his public relations experience. Derrenbacher said having this title shows responsibility and seriousness in his role as a PRSSA member, and "it shows how much interest I have in pursuing my experiences in this career." While interviewing with potential internship positions, he says he always mentions his unique role with the society.
UM's PRSSA chapter hosts a variety of events to spread awareness around campus to help educate members with pre-professional webinars. For example, PRSSA hosted a "Pitching Panel" in October inviting local journalists for the Pitch Perfect II event held at the School of Communication.
The journalists advised members on how to successfully build one's reputation, credibility, and relations in the communications world. This experience showed students the perfections and imperfections of the career, as the journalists also explained some unsuccessful stories of marketing failures while also creating solutions on how to target the correct media for the proper type of coverage.
From panels to private tours, PRSSA is there to enhance students college career. With real-life clients and companies involved, members can blossom into the top communications expert they want to be.
Since founded in 1981, students have been able to network, observe and possess professional skills that are not possible in the classroom thus offering the chance for students to open doors to potential jobs.
Sofia Veronica Estevez, president of PRSSA, who strives to have every student benefit from joining the society, continues to help the society run smoothly, as she takes the initiative to reach out to firms and set up tour for the members.
According to an interview with Estevez, this semester will include companies such as Norwegian Cruise Line, Frost Science Museum, and Adrienne Arsht Center. She works closely with Heidi Carr, faculty advisor for PRSSA, to always have cool and educating activities for members.