Posted January 30, 2015
By HANYA ALKHAMIS
People gather from everywhere to visit the weekly campus Farmer's Market, which occurs every Wednesday.
The market tries to provide the students and teachers and staff members with different types of foods and beverages to refresh their long and hectic schedule.
Abdullah AL Essa an international student from Kuwait stated, "the Wednesday market, is a breath of fresh air to our rigorous weekly schedules the reason being is it offers alternative foods and drinks of which people can enjoy. All of the foods and drinks provided at the market are prepared locally creating a love for Cuban, Mexican, Caribbean foods."
Internationals get the chance to experience fresh taste of local foods here in Miami. Not many students get the chance to enjoy fresh cooked meals during their days and weeks, but on Wednesdays students anticipate the ultimate taste of freshness.
Gyro-Licious is one of many other delicious food booths found at the market.
Gyro is a Greek dish consisting of roasted lamb or beef on a vertical spit mostly generally served with pita bread, tomatoes onions and tzatziki sauce.
One gets a chance to taste the mouthwatering Greek dishes served with love and hospitality.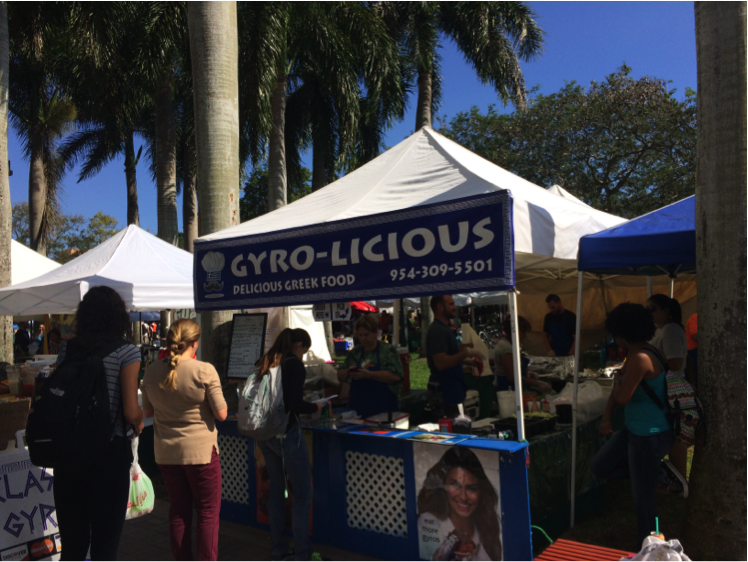 Pasquale Joseph Asci is a worker at the Greek-Licious booth is known to always be at the back preparing ultimate chicken and classic lamb and beef gyros.
"We started participating in the market about two years ago," he said. "We have seen substantial amounts of customers barging in to get their gyros and we try to give the best quality of food."
"We have fresh food out of the grill, so we notice many repeat customers that shows that we were doing okay. On average we get about a average of about 150 to 160 customers per Wednesday. I think the only bad thing about the market is that they shouldn't cut us out at 3 p.m. because students still are in classes by that time and search for food by like 5 p.m.," he said.
The rich Indian aroma permeated the atmosphere, allowing most of the people to stop or pass by Nisha's Flavours of India, an Indian booth. Indian food is a type of cuisine one just seems to crave and desire at the time when hunger strikes.
Debbie Otero; the woman behind the booths counter managing all the customer needs, proudly stated she has taken part in this market since after Thanksgiving; "it's my fourth time here."
Dealing with the students has been great we have gotten an overwhelming response speaking from the stand point of Nisha's Flavours of India, the students have really taken in to our food so has the staff. We get so many different people coming in from India who miss their Indian home-cooked meals from home, and Nisha's Flavours of India reminds them of their mother's cooking."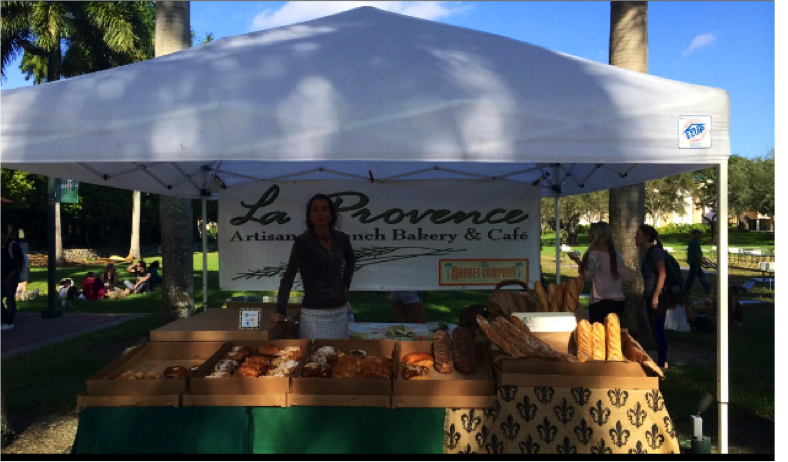 A wide variety of Samosas and chutneys and dals provide the students with a healthy Indian lunch that can fill them up and prevent them from snacking over unhealthy and unnatural foods.
From Greek, to Indian to French, one cannot go wrong by choosing to start their long and hectic day with a freshly baked Croissant from the La Provence booth. Freshly made and given out with love the pastries consist of Chocolate, almond and butter, mouthwatering ingredients.
Laura Sutton; a farmer and a worker handling the overwhelming amounts of customers every Wednesday, provides them with freshly baked pastries.
"Everything here is made each morning, every Wednesday I come with freshly made pastries that are baked in the morning," she said. "Begets, muffins and most importantly croissants are always available in the La Province booth with a decent price range making it an easy purchased by anyone and everyone."
The Wednesday Farmers Market is an anticipated weekly event that refreshes the students' tight, hectic and tiring schedules. Anyone can pass by and take a tour of all the internationally tasting local goods found at the market as they pass by the Richter Library.
Indian, Greek, French and even local Cuban food can be found in the market, which reveals the distinct and diverse nature of the market.
James Worgacky, a technician at the Richter Library, stated that the market is a nice way to cut the monotony of the general school days.
"It's a new way to see people selling their goods, little bit expensive, but they have some good stuff there. Prices are considered to be high for most of the students who tend to buy food and beverages from the market," he said.
"The only fulfilling meal that fits its costly price is the Gyro, the rest are all too expensive," Chelsey Sellars stated.
"The weekly Wednesday market allows students, teachers, staff members a chance to communicate with one another and enjoy their meals without having to walk around with their heads down typing into their phones. It is an opportunity for all students to change up their food plan for the day and eat a freshly cooked fulfilling meal, a meal that would also satisfy their homesickness," said student Abdullah Al Essa.
"Happy and joyful vibes come from the market causing students to be more outgoing, talkative and sociable with one another, rather than dull and boring. "Wednesday's shouldn't be the only day of the week when the Farmer's Market occurs, we need to breathe more of that fresh air," Al Essa added.