By ROXANNE YU
There are all sorts of things that social media are capable of, and one of its major strengths is its ability to turn an average middle class individual to an Internet sensation overnight.
On rare occasions, some people who do try to stray from the spotlight get dragged into it without their consent. Nearly a month ago, photos of a charming young farmer were put up online, which spread quickly throughout Filipino news media and gained a considerable amount of attention in the public sphere.
Jeyrick Sigmaton did not expect that his good looks would take him anywhere outside the indigenous community in which he grew up. Born and raised in the northern region of the Philippines, Mountain Province, Sigmaton decided not to attend high school so he could work full-time t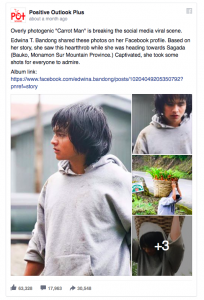 o help his parents support his six other siblings.
All thanks to Edwina Bandong, Sigmaton's photos went viral on social media.
Bandong happened to be around the Mountain Province area when she managed to take a photo of a farmer who was carrying a heavy load of carrots onto a delivery truck, hence the nickname "carrot man."
The news media caught on to the rising hype of carrot man that was going on in the Internet and decided to seek out Sigmaton.
One of the country's most prominent broadcast journalists, Jessica Soho, made the trip to Mountain Province to get to know more about Sigmaton.
Soho hosts her own news magazine television show that airs every Sunday evening, a show that many Filipino families watch on a regular basis. The fact that Sigmaton was featured on her show made the farmer an even bigger "celebrity," as it catered to a larger nationwide audience.
The news media are the source of opening new topics of discussion within a particular issue. In most cases, they do initiate debates and disagreements and they rarely function to unite everyone into one mainstream idea.
In the case of carrot man, Soho was not only able to tell a story behind the man in the photographs, but was also able to inform the public about the culture, struggle and livelihood of Igorots (indigenous tribe members.)
Soho was able to incorporate the timeliness of Sigmaton's fame and link it to the issues that surround native tribes that still exist around the country. She exemplified great journalism techniques that can be deemed praiseworthy.