By ERYKAH DAVENPORT
The queen of breaking the internet just recently revealed her pregnancy via Instagram. Although it was posted on a reliable source, it didn't become breaking news until reported by CNN, The Huffington Post, Time Magazine, and Us Weekly in the celebrity mom's section.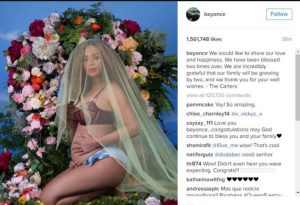 Billboard.com made it known that the unleashing of such news generated a record breaking number on the amount of like on one picture as well as over half a million tweets in just an hour.
Billboard also included some congratulatory posts made by some fellow celebrities. CNN also covered this story describing Beyoncé as the new queen of Instagram.
She also released a plethora of images from her maternity shoot on her website in an album titled I have three hearts, implying that she is having twins. Once news sources got a hold of these remarkable photos, they made it their priority to release them ASAP. The music industry as well as fans felt a sense of attachment to the celebrity since she was sharing this with the world and more specifically her fans.
There has also been talk about how she has two performances coming up and the 2017 Grammy Awards and at Coachella. People are worried she may not perform even after they have already purchased tickets.
My assumption is that she'll still perform, but her show will have to be a lot more conservative and mellow. It wouldn't be a surprise if the expecting mother takes this opportunity as a album dropping outlet. She would definitely draw the attention of millions as she's done already.