By TAYLOR HOFF
About 90,000 three-day passes were purchased for each weekend of Coachella Valley Music and Arts Festival in Southern California.
Multiply that with the retro, vintage, hippie costume of the event and imagine the number and the damage it could do to the hipster dominated app; Instagram.
And that damage was large, mainly because Coachella literally caused damage to the application's server. On Saturday, around 12 p.m. Instragram shut down.
It seems that Instagram had enough of white crochet and flower crowns because the constant influx of Instagrams by celebrities, non-celebrities, viewers at home, and even just jealous fans, was too much for the app to handle.
This was not the only social media faux pas caused by the festival. The vintage-y and hippie inspired atmosphere of the festival provokes a very specific dress. Subdued colors, cut off jeans shorts, knit, and more are often the common style of the festival.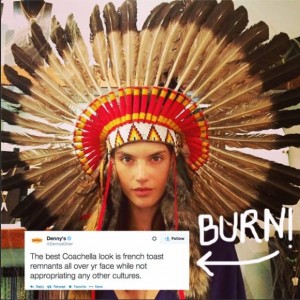 However, many celebrities took their own twist on the retro look; but not all were appreciated. Many of the celebrities attempts at trendy and unique actually raised question on its' cultural appropriation.
Several celebrities were seen sporting feather headbands, bindi dots, or headwraps.
Denny's took this opportunity to promote not only their chain, but cultural appropriation as well. They retweeted several celebrities pictures that question cultural ethics and added their own twist.
Coachella is one of the largest musical events in the world. It hosts a different crowd than Miami's very own Ultra Music Festival, but no matter what, both will cause controversy due to their size and nature.