By SIDNEY STERLING
The apple really does not fall far from the tree. Last year, Kim Kardashian nearly "broke the Internet" when she sported her newly dyed golden hair at Paris Fashion Week.
Now, her sister, Kendall Jenner, concealed her luscious brown locks in a bright blonde wig to strut down the runway in Balmain's showing at the 2016 Paris Fashion Week.
Balmain had some of the top supermodels in the world change their hair color to the opposite hue to walk the runway for her clothing line.
For example, blonde bombshells, Gigi Hadid, Rosie Huntington-Whiteley and Devon Windsor rocked brunette wigs. While, brown haired beauties, Kendall Jenner and Alessandra Ambrosio, showed off their new platinum locks.
It is safe to say that the news media went insane about the hair swap of the century.
Even ABC News gave its two cents. In an online article, ABC stated, "Adding to the hairstyle drama, Hadid, who's also 20, strutted out straight after Jenner, and in the place of her enviable blond locks she sported dark hair with a chic center parting." However the news outlet also observed that, "The playful hair confusion was cheered by front row attendees Kanye West and mother-in-law Kris Jenner."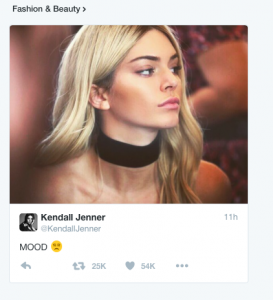 Entertainment and fashion gurus at eonline.com simply said, "Kendall Jenner, you look different …"
Even NBC Miami could not resist covering this "extremely important" news break. In an article they stated, "It was a tongue-in-cheek move on the part of Balmain designer Olivier Rousteing."
It is interesting to think why a local station found it imperative to cover a story that contains zero relevance to South Florida news, interest or safety.
Just like the credible news sources mentioned above, fans of Balmain and Jenner, love the bold hues and stylistic choice by the designer.
Once again, to no surprise, the Kardashian empire somehow finds a way to steal the spotlight in the news media just by slapping on a wig.

We have more important issues to worry about and do not have time to "break the Internet" when supermodels change their hair color.
What do you think of the news media's reaction to the swap? How do you feel about NBC Miami taking the time to cover this "extremely important" story? Is our media focusing and reporting on irrelevant news?