By DANIEL LLOVERAS
The University of Miami and Adidas revealed Monday the new "Legend of the U" football uniforms, which will make their debut on Oct. 8 when the Hurricanes take on rival Florida State at Hard Rock Stadium.
The new uniforms resemble those of the Miami teams which dominated college football in the 1980s and 1990s.
The design was inspired in part by the hiring of new coach Mark Richt, who played quarterback for the Hurricanes in the early 1980s. The uniforms represent the program's recognition of past success and optimistic outlook for the future.
While college football uniform unveilings generally receive minimal news media coverage, sports journalists went into a frenzy after seeing the "Legend of the U" uniforms.
Many national sports news organizations, including ESPN and Fox Sports, published articles raving about the new look for the Miami Hurricanes football team.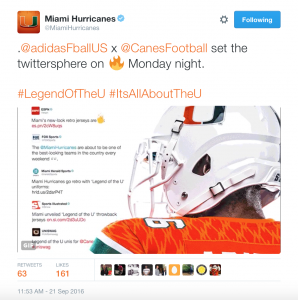 The Hurricanes football program was not only a dominant force on the field in the 1980s, but also a polarizing figure in popular culture.
The Hurricanes popularized the term "swag" with their aggressive play and showy celebrations, but have been mostly irrelevant in college football for the past decade.
The positive response from sports news media to the uniform reveal is reflective of the excitement and optimism surrounding the Miami football program.
Along with Miami fans, sports journalists hope to see Miami echo the success of the glory days in the 1980s, when the teams were exciting both to watch on the field and cover off it.