By DANIEL LLOVERAS
As Hurricane Matthew, the longest-lived Atlantic major hurricane since Ivan in 2004, moves through the Bahamas and approaches the southeastern United States, evacuations have been ordered and preparations have been made for the possibly devastating impacts of the storm.
Several major college football programs, including the Miami Hurricanes and the Florida Gators, are scheduled to host games this Saturday which may be impacted by the storm. Hurricane Matthew is forecast to move north along Florida's east coast on Thursday and Friday.
Depending on Matthew's track and the associated damage, Miami, Florida and South Carolina may be forced to reschedule or even cancel their respective games against Florida State, Louisiana State and Georgia.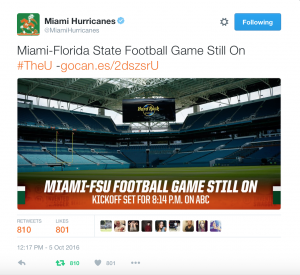 As of Thursday afternoon, no scheduling changes have been made for college football games this Saturday.
However, the impact on preparations for the game cannot be understated.
While most sports media organizations are focusing on the hurricane's impacts on game scheduling, the most significant effects of Matthew will likely be on transportation and preparation.
The University of Miami has closed its campus on Thursday and Friday, meaning the Hurricanes will be unable to practice before the game. Florida State has delayed its travel plans and will take a bus to Miami on Friday instead of Thursday.
Hurricanes are dangerous and cannot be taken lightly. However, college football games and television deals are valuable and will not be cancelled or postponed unless the safety of fans, players and coaches is threatened.
In this case, the storm will likely be clear of most college football stadiums come Saturday afternoon. With the games almost certain to be played, teams must ensure that the transportation and preparation issues do not negatively impact performance.