By CAROLINA PEREZ
Kim Kardashian made her way to the Oval Office this Wednesday to meet with President Trump in order to discuss prison reform and sentencing. Many people applauded the reality star's political initiative.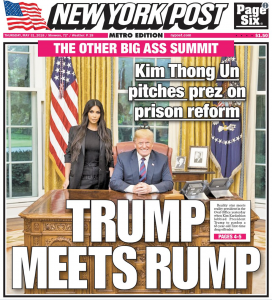 While meeting Trump, Kardashian spoke for 63-year-old Alice Marie Johnson who was sentenced to prison with no parole for a first-time drug offense.
Johnson has served 20 years in prison. Kardashian tweeted, "It is our hope that the President will grant clemency to Ms. Alice Marie Johnson."
While some believe that Kardashian is using her platform to make a positive impact, others see this as a PR hoax.
The biggest critic overall happened to be the New York Post, which mocked Kardashian as "Kim Thong Un" and referred to the meeting as a "Big Ass Summit" on the front page. Journalists and reporters had a lot to say about the cover. CNN's Don Lemon defended the reality star and described the paper's cover as "appalling" and "sexist."
Washington Post columnist Karen Tumulty added, "Can we just stand back for a moment and acknowledge the sexism of this headline? @KimKardashian is far from the first celebrity to understand the power of using her spotlight to call attention to a serious issue."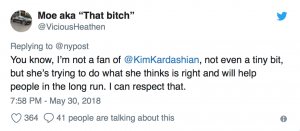 To publish such a mean spirited cover against someone who was just trying to advocate for criminal justice reform seems highly inefficient. We should support citizen participation within our democracy.
The news media are turning political activism into a joke enabling others to back away from it because of possible criticism.
I was happy to see other journalists chime in to support Kardashian. Although coverage like this diminishes the value of good journalism, the outcome of political discourse and conversation, especially between young adults, outweighs the negative impact. It's important for people to see this and talk about why it's wrong. Publications like this also help the public distinguish good sources of news from bad.