By NOELIA GRAHAM
In the midst of Yemen's civil war, thousands are dying. Not because of airstrikes or bombs, but because of cholera.
Yemen is one of the Arab world's poorest countries and its civil war is centered around Houthi rebel forces and those who are loyal to the government system of President Abdrabbuh Mansour Hadi.
According to Johannes Bruwer, worker for International Committee of the Red Cross who is currently in Yemen, "The cholera outbreak has infected more than 200,000 people across Yemen, and it appears that 500,000 could eventually become sick. More than 1,300 people have already died."
With the knowledge of modern medicine preventing cholera should be an easy task. But in a war torn country whose sewer system stopped working on April 17, clean water is hard to come by.
"Clean water in Yemen is a luxury. Municipal workers in Sanaa have not been paid in months. And so we have no electricity, rubbish piling high in the street, and a crippled water system," Bruwer wrote.
The cholera crisis in Yemen is centered to be the largest outbreak in modern times. With no end to the war in sight, Yemen faces is facing more than just a health crisis. Because of the economic collapse due to the war, cholera will continue to spread without the proper access to food, clean water and health care.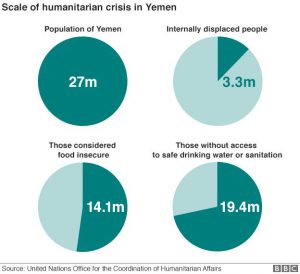 In a statement released by senior UN official in Yemen, Jamie McGoldrick, spoke about the lack of international response.
"The politics of the situation has overcome the humanity," Goldrick said.
"The humanity doesn't work anymore here. The world has turned a blind eye to what's happening in Yemen … right now we are so under-resourced for this crisis, it's extraordinary."