By JOSH WHITE
Carmelo Anthony has been the face of the New York Knicks since being acquired from the Denver Nuggets in 2011. However, times have changed.
Although the Knicks were never contenders to win the NBA title, they were playoff contenders. Anthony and the Knicks had been a team that battled for a bottom spot in the Eastern Conference making the playoffs in Carmelo's first three seasons in New York.
Since then, diddly squat.
While Melo has aged and the supporting cast around him has diminished, there has been one other clear change: Phil Jackson.
Yes, the former 11-time NBA champion head coach stepped into a front office role for the first time in his career as the new president of the New York Knicks in 2014.
However, this experiment has failed. Jackson has introduced his trademark triangle offense. An offense that has worked with some of the greatest players of all-time, has been a case gone awry since he took the helm in 2014.
The Knicks had their worst year in franchise history finishing 17-65 in the 2014-15 season and haven't looked all that much better since.
New York has already been mathematically eliminated from playoff contention and are on their way to another losing season.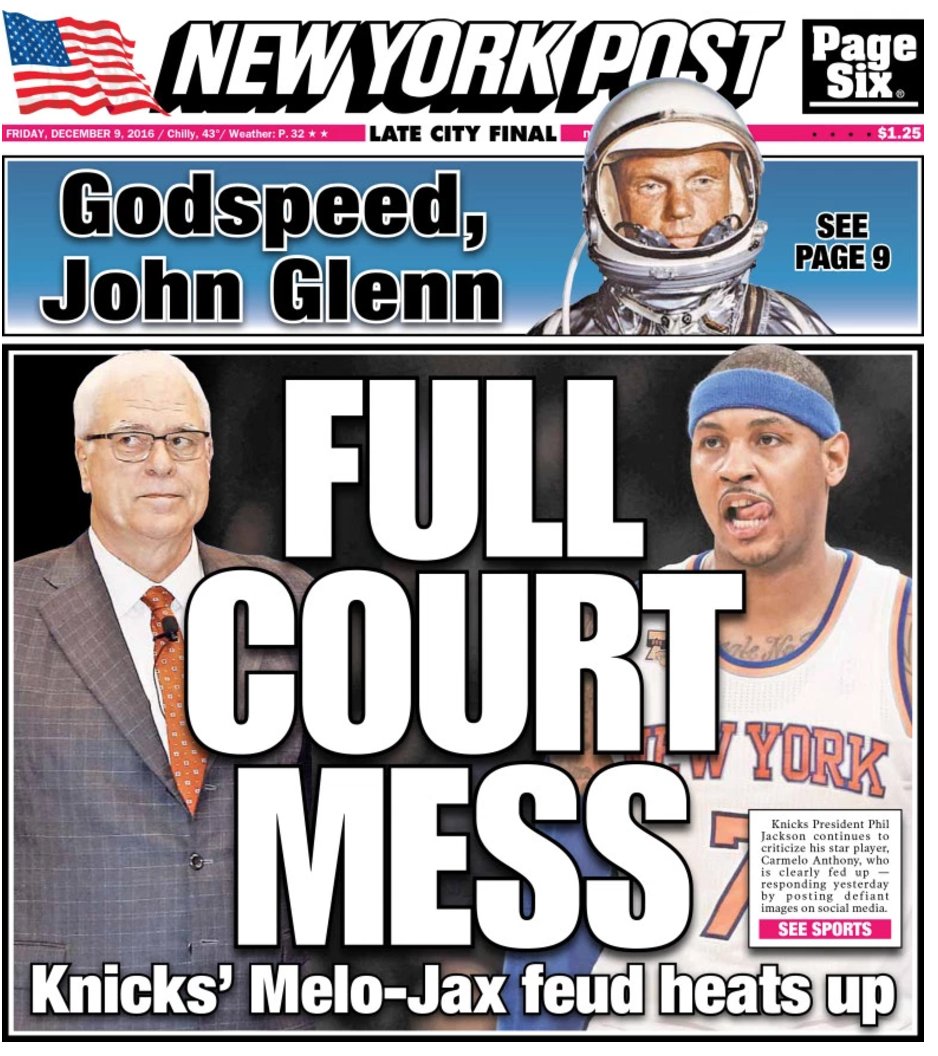 This power struggle between Carmelo Anthony and Phil Jackson has been well documented by the New York news media.
A story that the journalists in the big apple have eaten up and chewed out multiple times over.
Jackson and the Knicks have made front page headlines numerous times after being one of the worst teams in the NBA something that wouldn't happen in a market like Portland and Minnesota.
The New York news media continue to grill the Knicks and rightfully so.
I think the news outlets in the city that never sleeps is doing a good job from a journalistic standpoint because they are covering stories of a somewhat comedic franchise as it burns to the ground something that creates a lot of views from readers that generates a lot of cash for these news organizations.