By MADISON BROWN
The 2016 presidential election seems to have divided America more than it has united it. Both candidates have been the source of jokes and memes on social media throughout campaign season and people have not been shy about posting their opinions online.
Many Americans have joked that they would leave the country if Donald Trump was elected president of the United States.
However, as the results rolled in on Tuesday, what was once a joke started to become reality for some.
While President-elect Trump will soon move into the White House, some Americans will be moving out of their houses.
At around 11 p.m. on election night, Citizenship and Immigration Canada's website crashed due to a flood of users trying to visit the site at the same time. The federal government confirmed that the high traffic on the website caused the crash.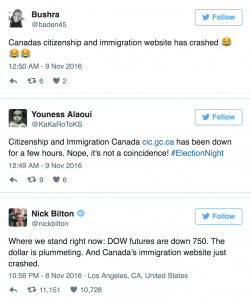 The website was still down two hours later.
Immigration, Refugees, and Citizenship Canada spokesperson Lisa Fillips said Shared Services Canada "worked through the night and continues to work to resolve the issue to ensure that the website is available to users as soon as possible."
Twitter users reacted to the site crash while the votes were being counted.
Canada will accept 300,000 total new permanent residents in 2017, so it looks like some Americans might have to crash another country's immigration site if they plan to leave the U.S.