By MELISSA CABRAL
It's Dream Car Week on the popular game show "The Price is Right" and one contestant's dream just came true.
Contest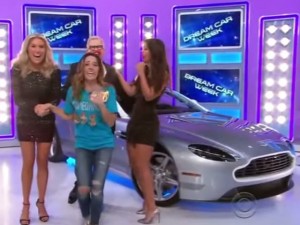 ant, Francesca Penko, became the lucky first participant to become the winner of her dream car on the TV show on Monday. Penko, a wedding photographer, won the grand prize of a 2016 Aston Martin Vantage GT Coupe worth $120,265.
To win the luxury vehicle, Penko participated in a Spelling Bee game in which she was asked to guess the price of three different household items. Lucky for her, she guessed all three correctly and was presented with the difficult choice of finishing the game and walking away with $25,000 or to keep playing for a chance to win her dream car with the risk of losing the previous money won.
Although it was a risky move, Penko chose to continue playing for the chance to win the grand prize. Host Drew Carey, tried to convince her to keep the cash but the audience encouraged her to go on for the big prize. She chose a card and Carey flipped it over revealing that her card had the word C-A-R written boldly on it.
Penko jumped up wildly and screamed in disbelief as her husband shouted in joy from the audience. The show is not known to give out such luxurious vehicles or prizes so this was big moment for everyone involved.