By JENNA JOHNSON
The highest court of Massachusetts ruled Wednesday that it was not illegal to take photos up the skirts of women without them knowing. And the decision is getting a lot of news media attention today.
Massachusetts Supreme Court Justice Margot Bostford of the said that these "upskirt" photographs were not technically against the law because technically the women were not nude or partially nude.
The ruling was based on the court case about Michael Robinson, 32, who was arrested in 2010 after being accused of taking cell phone photographs and videos up the skirts of women while riding Boston transportation. Police arranged a decoy operation that caught Robinson in the act. Wednesday's ruling reversed one by a lower court that denied Robinson's motion to dismiss the case, according to CNN.
After the decision was announced, social media exploded against "upskirting." Citizens claimed the right to privacy beneath their own clothing.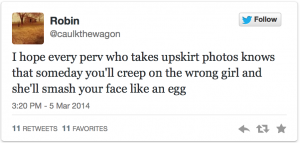 A slew of prosecutors and lawmakers disagree with the decision and are trying to change the law, agreeing that the technicalities of the law violate the spirit of protecting privacy.
It seems like the Massachusetts court system has some explaining to do.
Right now, the state has various wiretapping laws in place. According to the Digital Media Law Project, it is illegal in Massachusetts to secretly record a conversation, whether in person or by another medium. All parties must be informed of the recording in a conversation or telephone call. If the parties do not wish to be recorded, they have a right to leave the conversation.
But, it is legal to secretly snap photos of their underwear.
Maybe it's just me, but I'll give my consent to be recorded on tape rather than have someone sneak a few photos up my skirt without me knowing. Of course the privacy of conversations is important, but how can the courts assume that undergarments aren't private too?
"Upskirting" is not only a violation of privacy, but also demeaning to women. Upskirters (if that's a word now) should be aware that if they get caught, they may not be charged with violating privacy, but will likely be slapped with a sexual harassment lawsuit.
What goes up, must come down, just like the law on "Upskirting."