By S. MOLLY DOMINICK
If I'm feeling crotchety and in the mood to get myself all disgruntled about journalism, I know the first place I need to visit: the Yahoo! News homepage.
On the screenshot below, I invite you to marvel at the juxtaposition of headlines: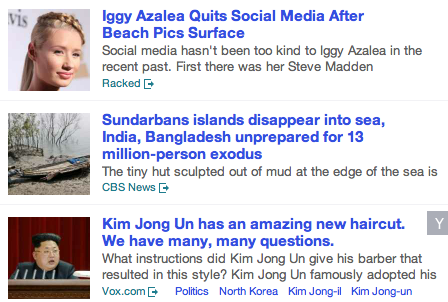 A story about what could possibly be the largest-ever human exodus — I repeat, the largest-ever human exodus, a staggering story with widespread societal and environmental implications for more than 13 million people—is sandwiched between stories about a celebrity and an infamous dictator marketed like a celebrity. Without discussing the merits of entertainment journalism as a whole, I think it's safe to say that those headlines should not be grouped together in the same category, at the bare minimum.
What's more, we need to keep in mind the way that a company like Yahoo! structures its homepage. Headlines are placed in a purposeful order of importance, based on which articles the company thinks its readers should see most. According to the above order, Iggy Azalea's absence from social media deserves more exposure than human-inhabited islands' absence from the face of the planet.
Call me remarkably crotchety for my 19 years of age … but by golly, what the devil is going on here?