By SIDNEY STERLING
This past week, Jillian Mercado, a 28-year-old model and blogger, was chosen to be the face of Beyoncé's new "Formation" clothing line. And I know what you are thinking. In the news media we hear about models every day, so how is this different?
Mercado was born with muscular dystrophy, a hereditary condition marked by progressive weakening and wasting of the muscles. She is permanently confined to her wheelchair and often faces limitations due to her disease. However, she has not let her condition hinder her hopes and aspirations to be a model and fashion blogger.
Beyoncé and Mercado fans can access her work by going to Beyoncé's online store (shop.beyonce.com). On the site, the world can see Mercado showcasing her talent for modeling while wearing famous Beyoncé phrases.
For example, on Beyoncé's online shop, Mercado poses in a grey sweater that says "I twirl on them haters" and a black hoodie that says "smack it smack it smack it."
Beyoncé hand picked Mercado to showcase her new "Formation" line because she wanted to emphasize the need for diversity and acceptance in the modeling and fashion world.
Vogue gave Beyoncé and Mercado their stamp of approval by saying in an article that they think "Beyoncé is making a statement with this move, giving light to the importance of including more models with disabilities."
The Today Show stated that models like Mercado "continue to break barriers in the fashion world, proving that diversity is a good thing."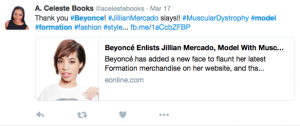 Beyoncé, Mercado and fashion fans are praising Beyoncé for this groundbreaking choice proving the acceptance by the social media world.
However, the news media are making it seem like this is Mercado's first rodeo. She also modeled for Diesel and Nordstrom earlier this year