By MIA POLLACK

Jian Ghomeshi has been no stranger to the spotlight in the last few years. Cameras have consistently been on his trail, as well as his family, since news broke from the Toronto Star that he allegedly assaulted three women, including one of his co-workers at the Canadian Broadcasting Corp. The former CBC host was charged with four counts of sexual assault in 2014.
Following the speculation, the CBC dismissed Ghomeshi from his high profile position, in which he got to interview actors, musicians, politicians and other public figures. As a one-time listener, he was good at his job, but leads me to wonder, especially with his female guests and coworkers – maybe he was a "little too good" at his job.
On March 24, Ghomeshi was acquitted of his charges, following his first court date in early February in Toronto. He plead not guilty to assaults that supposedly taken place in 2002 and 2003. The trial lasted eight days.
According to CBC News, his team of lawyers released a statement saying that he had been "rightly acquitted of his charges" and that "our system of justice, that is what must happen in every case regardless of who is accused or what crime is alleged. That is precisely what occurred in this case."
Since CBC was Ghomeshi's former employer and the crimes he had committed to these women took place in the public-broadcaster's headquarters in Toronto, they had the best coverage of the events. The CBC was there every single step of the way.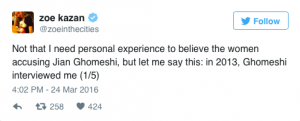 In the light of the events that took place on Thursday, Ghomeshi's acquittal comes as a shock.
It had been revealed that the witnesses gave inconsistent testimonies;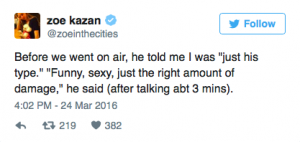 the only testimony that remained somewhat accurate was Lucy DeCoutere, leaving the judge to believe that her statements undermined her credibility.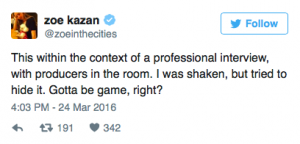 According to the Toronto Star, the key factors that led to Justice William Horkins to letting Ghomeshi go included:
The unnamed witnesses claimed that they did not know how to navigate the "proceeding."
Justice Horkins said, "all 3 witnesses had similar stories', but the ruling had to made individually rather than a part of a pattern.
In the end, all Justice Horkins had for evidence were the three witnesses accounts, if he couldn't believe them true he could not convict Mr. Ghomeshi of his crimes.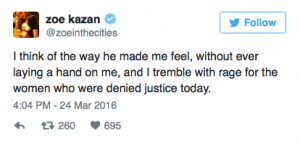 As mentioned before, due to Ghomeshi's high profile career, he had the opportunity to interview several actors, politicians, and other public figures on his radio show.
Zoe Kazan, an actress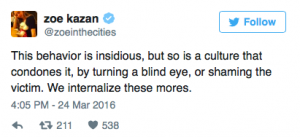 Ghomeshi interviewed back in 2013, opened up on her Twitter about the treatment she received from the now "free man" and how she now feels about it.
It is truly absurd in my opinion that the judge felt there was not enough evidence to indict Ghomeshi on his crimes. There is evidence from the CBC that he did commit these acts, even from the witnesses, but maybe from these women, they did not speak up enough during the trial to put their assaulter away.