By VIVIAN BRAGA
The 2014 Super Bowl achieved a record of 111.5 million viewers, making it the most-watched event in the whole of the USA history.
During the event, Coca-Cola, just like any other company who has millions of dollars to spend in commercials that will last seconds, aired an ad with "America the Beautiful" sung in Spanish, Tagalog, Mandarin, Hindi, Hebrew, Keres, French and Arabic.
If you are an open-minded, well-cultured person, you must be asking yourself: "Why is this so controversial, what is the big deal?"
But if you are heartless and emotionless, you must be infuriated at the fact that it was sung in every language but English.
Indeed, there are many things not like about Coke, but their idea that the United States is a multi-cultured nation should definitely not be of them.
The ad became so controversial, hash tags saying #fuckcoke trending on Twitter for hours.
According to the media coverage post, these were the tweets considered to be "normal responses" from the average American.


But, what if it was all a marketing strategy?
Using a weighted average of total views, subscriber growth, likeability and velocity, Touchstorm has actually worked out that the Coca-Cola ad was the most effective ad of the whole Super Bowl event.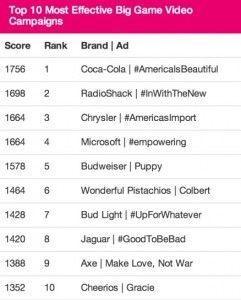 And until today, according to E-consultancy, the Coca- Cola ad has been No. 1 for a whole consecutive week.
Whilst other brands released "sneak peaks" of their Super Bowl ad a day before its a release, Coca Cola chose not to do it.
Maybe because management feared an early revolt against it or maybe because they were just waiting for the big day. But #Americaisbeautiful ended achieving more views on its initial upload than any other ad.
So maybe the advert is not as controversial as it seems. Whilst media coverage has constantly repeating about people's constant revolt against the ad, numbers show the message has been received more positively than what the extreme conservative politics and media has made us believe.