By SIDNEY STERLING
Dolce & Gabbana has released a new fashion statement within its Spring/Summer 2016 line including a stylistic twist on hijabs and abayas (ankle-length robes) designed for Muslim shoppers in the Middle East.
The new line, meticulously designed by Domenico Dolce and Stefano Gabbana, is called The Abaya Collection: The Allure of the Middle East. These pieces can only be purchased on Style.com/Arabia and at select boutiques in the Middle East, Paris, London, Milan and Munich.
These hijabs and abayas contain a neutral hue containing black and beige accents. Other patterns include luminous daisies, crisp lemons and luscious red roses.
CNN's fashion section reported the line in a positive light calling the hijabs and abayas "a signature sexy silhouettes for something a little more modest."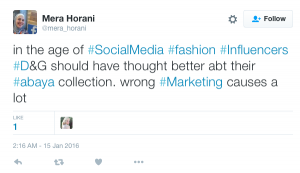 Dolce & Gabbana released a statement and said their new line is intended as "an enchanting visual story about the grace and beauty of the marvelous women of Arabia."
Consumers are criticizing Dolce & Gabbana on Twitter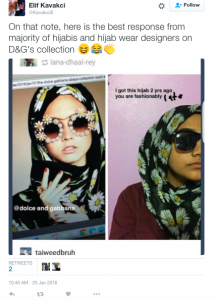 regarding their new line.
Others, think Dolce & Gabbana is simply "fashionably late."
Fashion gurus are also raising crucial questions testing the Italian fashion line about the motive of its designs.
Amani Al-Khatahbeh, editor-in-chief of the fashion blog MuslimGirl.net raised the question of whether Dolce & Gabbana is "finally catering to Muslim women, or if they exploiting them?"
Due to social media platforms, word is traveling fast and everyday
consumers, fashionistas and reporters are getting their hands on this groundbreaking story.
When style meets controversial religious issues, we must remember people are entitled to their own opinions and belief systems.
What do you think of Dolce & Gabbana's latest "haute couture"? Do you agree with Amani Al-Khatahbeh?