By MEREDITH SLOAN
American singer Lady Gaga released a raw public service announcement for the 2015 documentary film, "The Hunting Ground," which deals with the issue of sexual assault on United States college campuses.
According to Billboard, the music video PSA called "Til It Happens to You" was released on Sept. 17, and has more than 10.5 million views on YouTube. The music video PSA portrays a sexual assault survivor's experience.
Lady Gaga tweeted that a portion of the proceeds from the music video will go toward a survivors' organization. Unfortunately, Gaga is a survivor of sexual assault.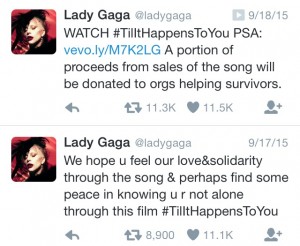 According to Marie Claire, Gaga revealed during a December 2014 interview with Howard Stern that she had been raped by a music producer at just 19 years old.
CBS Pittsburgh reported this week that a recent survey done on 27 campuses across the country concluded that one in four female students reports being a victim of a sexual assault. This startling statistic highlights the importance of sexual assault awareness for college-aged individuals.
Gaga's new music video will definitely have a backlash due to its disturbingly honest interpretation, but will have great impact in spreading awareness. The video will encourage people to discuss the socially taboo issue.