By FRANCESCA CIUFFO
Simone Biles was involved in a recent hacking scandal that released private medical information about Olympic athletes.
Russian computer hackers released the World Anti-Doping Agency's Athlete Database, which reported that Biles, Serena Williams and Venus Williams, were given medical exemptions to use banned drugs, though there was no misuse of these drugs.
These documents demonstrate that Biles tested positive for a drug that was banned on the WADA's list, but she did not misuse this drug.
The International Gymnastics Federation refused to comment on this so far, but Biles spoke out about these leaks on Twitter.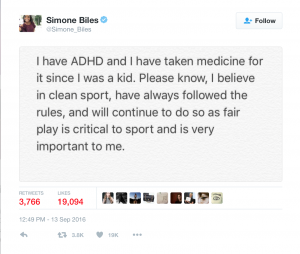 "I have ADHD and I have taken medicine for it since I was a kid," she wrote. "Please know, I believe in clean sport, have always followed the rules, and will continue to do so as fair play is critical to sport and is very important to me."
"The WADA deeply regrets this situation and is very conscious of the threat that it represents to athletes whose confidential information has been divulged through this criminal act," the World Anti-Doping Agency's director general said.
Fancy Bear, the hackers of the WADA's Athlete Database, warned that they will release more medical information about other athletes to show that today's sport is contaminated and the world is ignorant of this.
The media reports on a story like this because the 2016 Olympics has just finished, and doping athletes are a highly talked about subject when it comes to the Olympics.
This private medical information that was leaked is important to report on because sport is supposed to be equally fair for every athlete, but these leaks prove that sport is somewhat skewed or rigged.
The media reports on stories like this to prove that society is unaware of many of the underlying truths of the large numbers of athletes that use banned drugs.