By MADISON BROWN
Hurricane Matthew has been getting widespread attention this week in the news media, especially here in South Florida.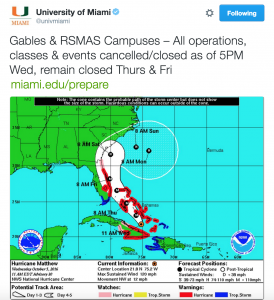 The category 4 hurricane was expected to hit Florida and travel up the coastal United States on Thursday and Friday.
The University of Miami cancelled classes and closed all of its campuses from 5 p.m. on Wednesday through Friday in preparation for whatever Matthew would bring to the Miami-Dade area.
News coverage has been constant, in addition to people posting Facebook updates and tweeting about the storm to make sure people are aware and prepared for the potential impact.
Posts range from tracking the storm's path to telling people to stock up on certain supplies in case of power outages.
Most of the coverage is extremely serious since the storm killed more than 100 people in Haiti and forced nearly three million people in the United States to evacuate their areas.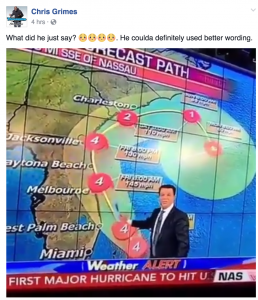 However, some people looked for the humor in the grave situation, posting memes and other comical photos related to Hurricane Matthew.
Fox News anchor Shepard Smith stressed the storm's life-threatening potential bluntly during a broadcast on Thursday.
"This moves 20 miles to the west, you and everyone you know are dead. All of you…and your kids die, too," Shepard said.
A short video clip of Shepard's broadcast went viral, with people surprised at the his less than poised reaction to the storm.