By ANDREA HUETE
You may have heard about Covergirl's first male model back in October 2016. Today, the same spokesperson that social media crazed over, James Charles, received backlash after he tweeted about all of Africa having Ebola.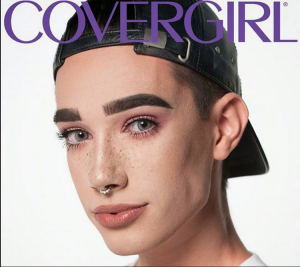 The tweet read "'I can't believe we're going to Africa today omg what if we get Ebola' 'James we're fine we could've gotten it at chipotle last year'….".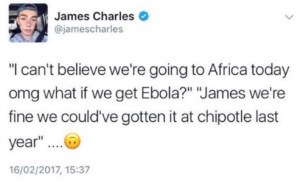 The Covergirl model explained that he and his friends were traveling to South Africa on a school trip and that it wasn't his intention to offend anyone.
Although, in his apology letter that's posted below, he makes one large mistake. James called Africa a country and Twitter took notice.
Tweets started flying regarding the continuation of the negative stereotype of Africa being ridden with disease, starving children and poverty.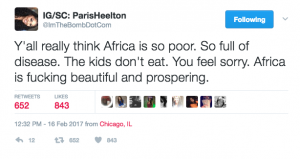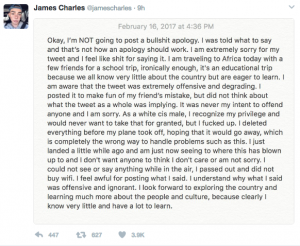 People also started looking deeper into James Charles's tweets, and found more (not so shocking) racist remarks.
His actions were then compared to makeup mogul Jeffree Star, who was called out for his racist remarks and use of the n word in summer 2016.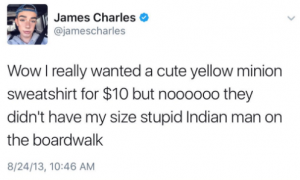 Affinity Magazine quickly latched onto the Twitter drama surrounding these comments and made an article, which they said Charles's management had asked them to take down, an order that they proudly declined.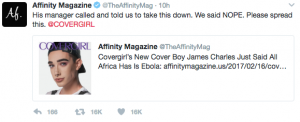 Twitter makeup goddess and black beauty activist @imthebombdotcom lead the pack against the racist and stereotypical remarks, demanding that Covergirl's PR team issue a response. Charles tweeted the controversial tweet at 3:37 p.m. Covergirl did not issue a response until 5:55 p.m., and that was not good enough for Twitter.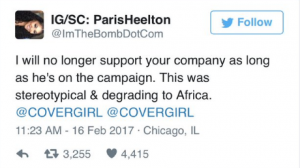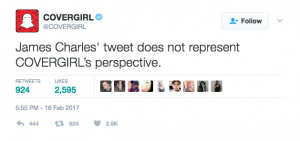 Tweets flew to Covergirl from women and men of all races, saying that Covergirl needs to rid their company of the young James Charles and, until they do so, they will not get the support/business of many.
I, for one, agree with the need to dismiss James Charles from the Covergirl brand. In a society that already contains racism and European-centric beauty standards, there's no need for discrimination. Hopefully the 17-year-old Charles can educate himself on the culture and beauty of the continent of Africa.