By SIDNEY STERLING
This past week, North Carolina's General Assembly proposed and passed the House Bill 2 which is also known as the "bathroom bill." The HB2 Bill was signed and approved by Gov. Pat McCrory.
The HB2 Bill appealed the Charlotte ordinance and prohibited cities and local governments from expanding employment or public accommodations protection regarding sexual orientation or gender identity.
Due to the HB2 Bill, local governments are now prohibited from setting their own minimum wages and must comply to the state standard.
This new mandate affects the fashion industry in major ways. However, many chain brands that have stores in North Carolina are vowing to ignore this enforcement.
According to WWD.com, stores like Brooks Brothers and Hanesbrands are making bold statements against the HB2 Bill.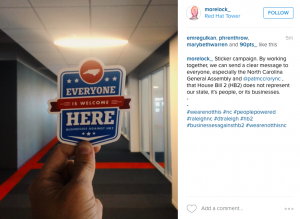 Brooks Brothers made a statement on social media stating, "North Carolina's HB2 is inconsistent with our longstanding values of fairness, equality and respect for all."
Hanesbrands also spoke out against HB2 through digital outlets by saying, "HB2 will have no effect on how we run our business and our very strong anti-discrimination policies and practices, including protection for sexual orientation and gender identity."
This new bill will hinder North Carolina's overall image and economy.

Many fashion bloggers and tweeters are outraged and are unleashing their opinions through various mediums.
What does this mean for the fashion industry on a national scale? Do you agree with the HB2 Bill? Do you think North Carolina should flush this "bathroom bill?"