By MADISON BROWN
The NCAA announced Monday that it will relocate all of the seven scheduled championship events from North Carolina due to the state's controversial transgender bathroom law that prohibits citizens from using bathrooms that match a gender other than what is listed on their birth certificates.
North Carolina Gov. Pat McCrory passed the law, known as House Bill 2, in March.
The NCAA's relocation announcement will affect the Division I men's basketball tournament, commonly referred to as March Madness, in which six games were scheduled to occur in Greensboro, N.C., this coming March.
"We believe in providing a safe and respectful environment at our events and are committed to providing the best experience possible for college athletes, fans and everyone taking part in our championships," Mark Emmert, NCAA president, said regarding the decision.
The NCAA has not yet announced where the relocated games will be played.
According to The New York Times, an NCAA spokesman said that North Carolina is the state which has hosted the most men's basketball tournament games. This makes the relocation decision even more significant.
McCrory has faced harsh backlash from the media and the public since signing House Bill 2, and the NCAA's recent decision is only making it worse.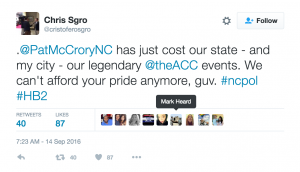 Chris Sgro, Equality North Carolina executive director and a Democrat in the North Carolina House of Representatives, has been an outspoken adversary of House Bill 2 and Governor McCrory.
Sgro took to Twitter to express his frustration after the NCAA's announcement.
Sgro is not the only one upset by the governor's stance on LGBTQ rights and the NCAA's feelings on the issue are not helping his popularity.