By NOELIA GRAHAM
New software designed to attack Mac operating systems is being spread around the "dark Web" leaving Apple products vulnerable.
According to BBC technology correspondent Mark Ward, there are two different types of software that are being given out for free to anyone who can access the program. "One is ransomware that encrypts data and demands payment before files are released. The other is spyware that watches what users do and scoops up valuable information," he wrote.
This information was gathering by security firms Fortinet and AlienVault when they found a web portal hosted on a TOR network that advertised malware and spyware software for Mac products.
The authors of the malicious software are advertising their product as "sophisticated malware for Mac users" and calling it MacSpy.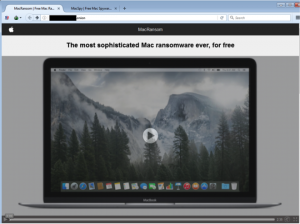 In order to access the software you need to contact the developers and have it set up by them.
The concept is to split the profits 70/30 percent of the amount of bitcoin the person using the program wants to retrieve from the person's computer they've attacked.
However the program only works if the person trying to attack your files has access to your Mac or if you open an unknown file from unknown developers.
Aamir Lakhani from Fortinet said, "Mac users should make sure their machines were kept up to date with the latest software patches and be wary of messages they receive via email."
While Mac computers are not often heard about in cyber attacks that is because most personal computers run windows.
However according to stats from MacAfee there are 450,000 malicious programs aimed at Macs and 23 million targeting Windows users.
As the market continues to expand and include Mac systems the demand for malicious software targeting these operating systems will grow as well.