By JOSH WHITE
For the third time this season, the Miami Hurricanes men's basketball team dropped another game after holding a second half lead.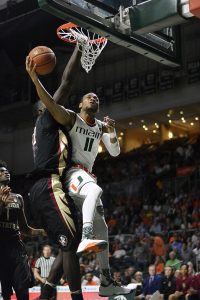 Up 34-31 at the break against rival Florida State, the Canes gave up a 16-2 run allowing the Seminoles to take a double digit advantage. FSU outscored the Canes, 44-23, in the final 20 minutes and won, 75-57.
The Hurricanes were in grasp of another signature victory to pad their NCAA tournament résumé.
At home earlier this season against No. 20 Notre Dame, Miami was up 61-57 with 2:46 remaining in regulation. The Hurricanes turned the ball over three times, failed to hit a field goal, and only registered one point, allowing the Fighting Irish to win 67-62.
On the road visiting No. 18 Duke, Miami came out strong taking a 36-25 lead into the intermission. However, the Blue Devils clawed all the way back with a 20-2 run that was insurmountable for the Hurricanes to overcome at the deafening Cameron Indoor Stadium. Duke went onto win 70-58.
Now the question is: why are these second half struggles continuing for Miami?
Unlike the 2015-16 season, Miami lacks experience and depth to contend against high-caliber teams for 40 minutes.
The Canes only returned two starters from a season ago and welcomed four rookies. Aside from co-captains Davon Reed and Kamari Murphy, no other Hurricanes on the current roster averaged over 24 minutes-per-game a year ago. Not having experience to knock down crucial free throws at the charity stripe when the pressure is on has shone bright for this Miami team. The Canes have constantly missed freebies and turned the ball over allowing opponents to take control of the game.
A depleted bench has been a major factor for Miami. The Hurricanes, who only have nine scholarship players, can't afford foul trouble. When guys like sophomores Ebuka Izundu and Anthony Lawrence Jr. pick up multiple fouls, the already thin roster becomes narrower. Additionally, lack of depth has led to fatigue as five Hurricanes are averaging 24 minutes-per-game. Balls have slipped out of Hurricanes players down the stretch and missed free throws have doomed Miami.
In a transition year for Miami, the Hurricanes are going to have to weather the storm and find their way into the big dance at all costs. The Canes will have to hold serve and upset one big-time opponent in order to earn the right to play for the national championship.