By SIDNEY STERLING
Every year, males and females alike, anxiously await the release of the annual Sports Illustrated swimsuit Issue. This year, the magazine is set to hit stands on Feb. 17. However, this year the aura surrounding the launch is different from the past.
In the 1990s, women craved to look and dress like Kate Moss. Her size zero physique and luscious blonde hair consumed the minds of women and men around the world. Girls wanted to be her, guys wanted to date her.
Flash forward to our digital society in the 21st century; out goes Kate Moss and her tiny frame and in comes Kim Kardashian taking up the entire lens with her behind.
Bottom line, with our constantly evolving society our idea of the ideal body type rapidly changes and with that, so does the Sports Illustrated magazine's swimsuit edition.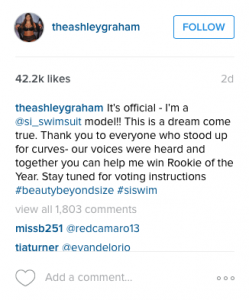 This year's magazine will feature the first plus-sized model in all of Sports Illustrated swimsuit history. Ashley Graham, a 28-year-old Lincoln, Neb., native and seasoned plus-size model, will show her voluptuous curves inside the coveted yearly edition.
When she heard the news, she immediately declared her excitement and anticipation for her big break on Instagram.
However, others were not exactly "welcoming her with open arms."

Graham is no rookie when it comes to modeling. Her resume includes modeling for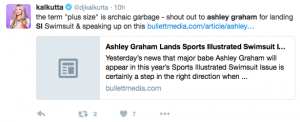 magazines such as Vogue, Glamour and Latina. She has also appeared on "The Tonight Show with Jay Leno," "Entertainment Tonight" and "CBS News" with regards to her career in modeling and breaking social barriers.
Many news outlets like ABC and CNN speak positively about Sports Illustrated's decision to revamp its image and stray away from the stereotypical skinny swimsuit models.
Sports Illustrated and Graham fans seem supportive of this progressive move.
Do you think society is headed in the right direction based on this move by Sports Illustrated? Do you think it was simply just a publicity stunt or will it continue to have plus-sized models in every yearly issue?