By MADISON BROWN
Starbucks released a new cup on Tuesday to symbolize unity during this election season.
Starbucks CEO Howard Schultz said the cup is meant to remind people of "shared values and the need to be good to each other."
The newly unveiled cup features an illustration of more than 100 people in one stroke. However, unlike the usual red holiday cups Starbucks hands out around this time, the new cup is green — and people are not happy about it.
Instead of bringing people together, the cups sparked outrage on social media.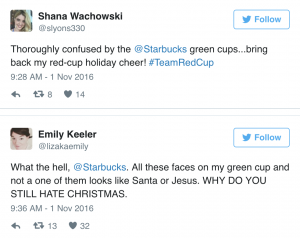 Last year, people were equally as upset after Starbucks changed its typically Christmas-themed red cups into more simplistic, religiously inclusive red cups, again taking to social media to express their disappointment.
Clearly, people are serious about the color of the cup their coffee is in and they are not fond of the company messing with it. The #TeamRedCup people have been vocal about their opinions.
Photos of new 2016 red Starbucks cups have been surfacing on social media, as well as shipping boxes in Starbucks stores, labeled "No Peeking Until November 10th."
The leaked photographs have led to speculation that Starbucks will in fact release the coveted red cups after Election Day.
Maybe the return of the red cup will bring the peace and unity Starbucks was striving for in the first place.