By MIA POLLACK
Fencer Ibtihaj Muhammad took to her Twitter in disbelief. Muhammad is set to become the first American-Olympian to compete this summer in Rio sporting a hijab.
The fencer attended the opening weekend of the South by Southwest media festival last weekend in Austin. According to several news outlets, including the Huffington Post, USA Today and the Chicago Tribune, the athlete was forcefully asked to remove her religious headdress for her registration photo and ID badge.

When she received her ID badge, she was given the wrong ID. Instead of her name Ibtihaj Muhammad, she was given one with the name Tamir and a working title at Time Warner. The 30-year-old took to her Twitter to share her disbelief in the treatment she received from the event's staff and security.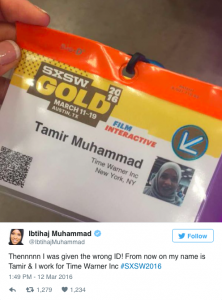 SXSW released a public statement, apologizing to the No. 7 ranked saber-fencer, saying: "It is not our policy that a hijab or any religious head covering be removed in order to pick up a SXSW badge.
This was one volunteer who made an insensitive request and that person has been removed for the duration of the event. We are embarrassed by this and have apologized to Ibtihaj in person, and sincerely regret this incident."
As the Chicago Tribune reported, Muhammad was sitting on a panel called "The New Church: Sport as Currency of American Life." She told the audience about her 'crappy' check in experience. "…Asking me to remove my hijab isn't out of the norm for me." Muhammad left a lasting remark on the panel regarding the treatment she received, "Do I hope it changes soon? Yes, every day."