By LONELLE LEWIS
With five Top 10 finishes in the last six seasons and nine straight Top 15 finishes, the UM women's tennis team is overlooked and deserves more news media attention.
People might not know this, but the Miami's women's tennis team is actually the most consistent athletic programs at UM.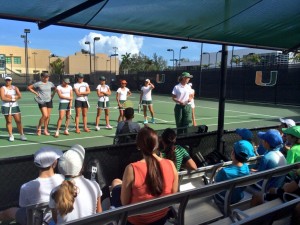 Having covered its matches for two weeks, I actually had the chance to analyze the team closely.
Even though the team does not receive the media attention that it should, the women go out and support each other with minimal crowds in attendance.
Players are seen rooting each other on during the match to give their team a boost. The passion that these female athletes put into their sport is amazing.
It definitely is a fun environment to be around, and I would encourage members of the UM community to come out to matches.
Coach Paige Yaroshuk-Tews is an elite recruiter who is the all-time winningest women's tennis coach in UM history. She is a superb motivator and teacher. Back when she played college tennis at UCLA, she made it to a #1 ranking in doubles and #13 ranking in singles, both in 1996.
When people think UM coaches, the first names that come to mind are Al Golden and Jim Larranaga. But if people would actually look at the women's side, you have successful women coaches like UM basketball coach Katie Meier and Coach Tews.
Some people might find tennis boring, but if you actually go to a UM match, it is quite exciting. The goal is to one day get the stands filled with fans. The Neil Schiff Tennis Center is comfortable and capable of holding approximately 1,200 spectators.
Last weekend, the UM women's tennis team held a kids clinic that brought out the largest crowd of the year, somewhere in the neighborhood of 250 people. It felt good to see this great tennis program receive this type of fan support. Not only was there a kids clinic, but there was free food.
President Donna Shalala was in attendance. She spoke about Coach Tews and the women's tennis program.
"Coach Paige is amazing! The quality of the program shows. This demonstrates two things, first class athletics as well as academics," Shalala said.
The team has to do whatever it takes moving forward to get fans to attend the matches. Maybe the marketing department can post flyers around campus and advertise through social media sites mainly for students to attend games. People just do not know how good this team really is.
Another way to get fans to the matches is by giving away free shirts and coupons to other events that they attend on campus. Maybe give students or fans who attend the games a free milkshake coupon for a baseball game. I guarantee some people will come to the matches just because the milkshakes are good.
To give the team more media access, UMTV could cover women's tennis more or maybe The Miami Herald can write stories on the team or cover the matches. It seems like women sports are not promoted as much as men's sports, which is unfair to these athletes. These girls are actually really good and deserve to be supported.
Right now 40th ranked Kelsey Laurente is playing consistently and climbing up the rankings in singles competition. She plays with so much energy and brings excitement to the court. If I could write a scouting note on her, I would say she has an amazing backhand and attacks the ball with powerful hits on every play.
Coach Tews talked about Kelsey's play as of late.
"Kelsey is stepping up and taking a leadership role on this team."
On another note, the doubles team of Clementina Riobueno and Monique Albuquerque are ranked 24th in the nation. They are 8-1 this season and could end the season in the top 10 rankings.
The 20th-ranked Canes host 56th-ranked Boston College tomorrow at noon. Hopefully fans will come out to support the most consistent athletic program at UM.
Be sure to follow UM women's tennis @HurricaneTennis for the latest news on the team.