By XUANCHEN FAN
The new iPhone 6 was finally shown to the world on Tuesday of this week. Pre-orders start on Sept. 12.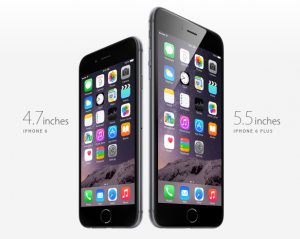 The iPhone 6 is 4.7 inches diagonally and 6.9 mm wide.
The iPhone 6 Plus is 5.5 inches diagonally and 7.1 mm wide.
Moreover, the iPhone 6 Plus has a full 1080p HD display than a 720p HD display than iPhone 6 which apple calls it Retina HD.
The iPhone 6's Wi-Fi speeds are up to three times faster than those of the iPhone 5s. The iPhone 6 also has faster LTE than the iPhone 5s. Some details on the landscape is also improved, like, some apps, mail, and weather.
Apple also advanced its iPhone camera. The all-new feature on the camera called Focus Pixels, which has an eight megapixel iSight camera, a 1.5u pixel sensor and a f/2.2 aperture lens. Apple says, "That's a nerdy way of saying, we've made the iSight camera a lot better."
The new iPhone's body is larger and more rounded edges make the sizes feel good. And Apple CEO Tim Cook maintains that the new appearance make it more comfortable for people to hold it. However, many people argue than the new look make the iPhone 6 looks ugly.
Every time, Apple makes new products, a side of people argue that the products are worse than before and Apple's creation begins to decline. But Apple's product is still the best-selling around the world and iPhone 6 is the best among the telephones nowadays.
New iPhones are available in gold, silver, and space grey, and are available in 16 GB, 64 GB, and 128 GB capacities. The iPhone 6 pricing starts at $199, while the iPhone 6 Plus pricing starts at $299.