By DANIEL LLOVERAS
Newt Gingrich, the former speaker of the House, clashed with Fox News anchor Megyn Kelly during a live television interview earlier this week.
Kelly asked Gingrich about the sexual assault allegations against Donald Trump and whether or not they were causing him to slip in the polls. Gingrich responded by accusing Kelly and other members of the news media of bias against Trump.
"You are fascinated with sex and you don't care about public policy," Gingrich said to Kelly. Gingrich also said that Kelly has not given a fair amount of coverage to the scandals of the Clinton campaign.
Kelly argued that her show, "The Kelly File", has covered all stories relevant to the 2016 presidential race, including the sexual assault allegations against Bill Clinton and the private paid speeches that Hillary Clinton made to big banks.
Kelly said that polls show that the allegations against Trump are concerning to voters and that she has an obligation to report on them.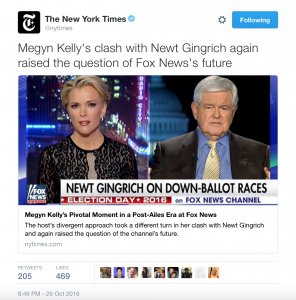 After the exchange between Kelly and Gingrich, the news media responded by speculating on the future of Fox News.
The traditionally conservative network is in a transition period after CEO Roger Ailes was ousted over sexual harassment accusations.
Fox News is not used to its anchors clashing with Republican politicians. Kelly's altercation with Gingrich is representative of the division within the GOP over the Trump campaign as well as the network's increased willingness to allow its journalists to disagree with party leaders.
With the network's niche audience divided over Trump, Kelly's moderate perspective is key to retaining viewers who may be turned off by traditionalist anchors like Sean Hannity and Bill O'Reilly.