By CAROLINA PEREZ
President Trump met with Kim Jong Un on Tuesday and they have come to an agreement to work toward "complete denuclearization of the Korean Peninsula."
The news media have covered this issue with much scrutiny towards Trump. In other words, no one seems to show the president support for efforts to reach peace with North Korea. The coverage comes with very little information because the agreement lacks detail. Although there is much talk about getting rid of these nuclear weapons, there is no deadline set for when and no guarantee that the agreement will be irreversible.
The lack of detail has been leading journalists to cover this issue with much skepticism. News outlets believe that Trump is giving up too much and reporters are not hiding it. Objectivity has flown out the window for this summit's coverage and Republican U.S. Senator Marco Rubio was not happy about it. Rubio jumped in to defend Trump by pointing out the news media's "hypocrisy."
"Presidents meeting with #KJU exposed incredible hypocrisy of many in media," Rubio tweeted. "When Obama did these things, he was described as enlightened. When Trump does it he is reckless & foolish. 1 yr ago they attacked Trump for leading us towards war,now attack for being too quick for peace."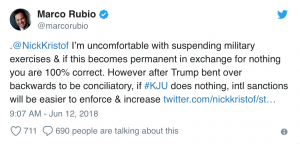 The New York Times' opinion columnist, Nicholas Kristof, wrote an article where he too criticized the exchange between Trump and Kim Jong Un. Kristof believes Trump was"out-negotiated" by Kim.
Rubio came back in with another two cents to swoop Trump away from scrutiny. Kristof's piece was one out of the many opinionated journalists who expressed the same view about the exchange.
This issue leaves many questions unanswered for both sides. It is hard for the news media to cover an issue like this objectively without the right amount of detail needed to inform  readers and viewers. If politicians want to start seeing less "fake news," then they should give the news media enough information to avoid misinformation. Until we get more detail, journalists will most likely continue criticism towards Trump.