By SHAWNA KHALAFI
Thanks to social media and the Internet, by now most people are familiar with Kim Kardashians "Break the Internet" movement and photos from her cover and spread in Paper magazine.
While some people are either laughing at the photos and creating mocking memes or accusing the magazine of using Photoshop, there is a deeper underlying issue regarding the overall concept of the shoot.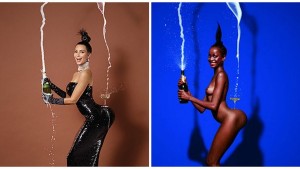 As confirmed by the editorial director of the magazine, renowned French photographer Jean-Paul Goude's shoot with Kardashian was aimed at recreating his own work.
Jean-Paul Goode wanted to recreate his famous 1976 "Champagne Incident" photo from a book entitled: "Jungle Fever," which originally featured nude black model, Carolina Beaumont.
His original 1976 "Champagne Incident" photo was said to evoke the image of Saartjie Baartman.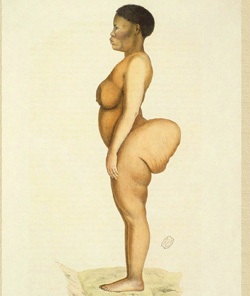 Saartjie "Sarah" Baartman was a black South African woman brought to London in the 19th century and displayed for her large buttocks.
Baartman was the most famous of at least two Khoikhoi women who were exhibited as freak show attractions in 19th-century Europe.
Jean-Paul Goude has a long history of using women of color in outrageous, over-sexualized and sometimes animalistic depictions for his pictures. Some people find that his shoot with Kim continues in that long tradition of blatantly flirting with racism.
The editorial director of Paper magazine has commented to confirm Photoshop rumors, but he still will not comment on the race issue allegations of the spread.