Posted September 27, 2016
By JULIE HARANS
MIAMI -– Known for larger-than-life murals and a bustling social scene, Miami's Wynwood neighborhood had its reputation rocked in July when authorities deemed it a location of the Zika virus. This was tough news to hear for fans of the neighborhood and tourist-dependent businesses braced themselves for potential financial disaster. Now that governor Rick Scott has declared the district Zika-free, visitors can enjoy Wynwood for what it really is: a one-of-a-kind artistic playground booming with culture and history.
Located just south of Little Haiti and north of Downtown Miami, Wynwood was originally a residential neighborhood for working-class families before a rise in unemployment, poverty and crime occurred in the 1970s. Investors and non-profits began backing the area in the late 1990s and early 2000s and that phase of gentrification created the hotspot we see today. The announcement that Wynwood no longer brings risk of Zika marks the perfect time to rediscover Miami's best artsy escape, where a jungle of warehouses has been transformed into a collection of public art canvases.
In Wynwood, monotonous industrial buildings and vividly engaging art collide. Every corner of these streets is marked with the district's funky visual style; colorful paints bleed off walls and onto the sidewalks, which are stamped with inspirational quotes and artistic graffiti. As you spend the weekend in Wynwood, let your creativity and imagination run as wild as the artists who crafted the neighborhood.
FRIDAY
Noon –- Play tourist
No matter how much you turn your nose up at "tourist traps," perusing Wynwood's signature outdoor murals is an absolute must. It's not every day you'll see a 20-foot woman wading in a bath of milk and fruit next to two detached hands knitting a human face. And since few of the pieces are permanent, there's always something new to see. For those seeking some structure, The Art Experience offers a variety of tours starting at $42, but the best way to embrace the area is to truly wander; let your artistic preferences guide you from the heart of NW Second Avenue and NW 24th Street to the outskirts of Overtown and back just in time for lunch.
1 p.m. -– Artistic eats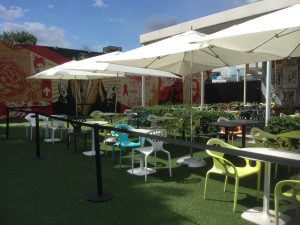 End your mural tour at the famous art park known as Wynwood Walls. Nestled in the corners of the iconic exhibit is Wynwood Kitchen + Bar, a tapas-style spot serving small plates with a Spanish flare. The Florida heat can be brutal, so dine indoors if you must, but the real draw of this place is the outdoor seating that offers views of the painted buildings. As you people-watch and munch on empanadas from the sleek, modern patio, you'll feel like your table was dropped in the center of a gallery.
2 p.m. –- Wynwood on wheels
While more adventurous travelers tend to gravitate to the Florida Keys or the Everglades, there are still plenty of outdoor activities in Wynwood to get you moving. Bike and Roll offers a variety of on-wheel tours around the city, and their Wynwood version is among the most popular for good reason. It's a tour and a workout in one; you'll bike an eight-mile route around the area while learning an in-depth history of Wynwood's transition from cluster of industrial buildings to worldwide art destination. Bike and Roll labels the difficulty level as "moderate," and tickets are $49 for adults and $39 for students.
5 p.m. -– Not your average alley
Wynwood is essentially one big, inclusive exhibition space, and the neighborhood represents all forms of art, from framed pieces on white walls to handmade crafts by local artisans. The Wynwood Alley Artisan Market showcases the more rustic side of the spectrum, and though we're usually advised to avoid alleyways, this event is the exception. Every Friday through Sunday, the funky venue known as Wynwood Alley hosts a handful of artists selling everything from jewelry and clothing to popsicles and phone cases. It's essentially Wynwood's artsy twist on the classic souvenir shop.
8 p.m. -– On-stage art
Though the renowned Adrienne Arsht Center is just a few blocks to the south, visit to the Miami Light Project means more than getting a much-needed dose of culture. It also means supporting a local non-profit that's helping the community through all kinds of partnerships and initiatives. The organization houses dynamic live performances every Thursday through Sunday. Tickets are $15 for students and seniors, and $25 for general admission.
9 p.m. –- Backyard escape
Wynwood is a refreshing detour from the flashy hustle and bustle of Miami, and Lagniappe is a spot that offers a particularly laid-back setting. Come for a late dinner and stay for the stunning ambience. Though the fare is simple, the level of comfort and hominess that this venue-café manages to achieve is no small feat. Live music fills the cozy interior, where guests grab reasonably-priced bottles from shelves and coolers. Past the wine bar, the space opens up into a sprawling outdoor space adorned with string lights with a mishmash of patio furniture and antique couches.
SATURDAY
10 a.m. -– Morning grind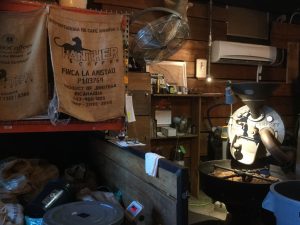 For one of the best cups of joe in South Florida, head to Panther Coffee. The retail store doubles as a small-batch roaster and it's evident from the moment customers enter the door to the rich, warm scent of roasting beans. Panther's top-notch beverages have made it a household name in the Miami area and earned the coffeehouse national recognition.
8. Noon -– Lunch at the market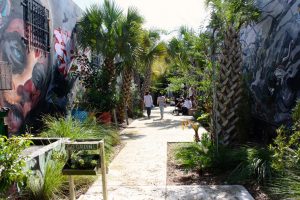 Combine lunch and a midday activity into one at the Wynwood Farmers Market. Just a block from Wynwood Walls, this market once again proves that good things come in small packages. The setup is hidden behind a warehouse on NW 26th Street and features about 15 tables, but each one offers distinct, high-quality items and eats from businesses – many of which are owned by local families. Enjoy salsa made by an immigrant and her former housemaids before sampling pickles unlike any you've ever tasted.
2 p.m. –- Afternoon brews
What would a hip neighborhood be without a signature craft brew? Wynwood Brewing Company is constantly hosting events, from Food Truck Fridays to monthly comedy shows, but its weekend brewery tours are a must for first-time visitors. Just $10 lets you explore the sprawling facility while enjoying a 16-ounce brew of your choice in a souvenir glass. As if you needed another excuse to drink beer, all proceeds go to The Roberto Clemente Foundation, a local charity that takes care of the neighborhood parks. The brewery gives tours every Saturday and Sunday at 2 p.m., but be sure to arrive early since there's 10-person limit on a first-come, first-served basis.
6 p.m. -– Culinary collage
Like the painted buildings themselves, R House is a hodgepodge of artistic concepts. Food, art and music collide inside this gallery-slash-eatery. The refined yet casual restaurant houses colorful gallery exhibits and an even more colorful menu with cuisines that span the globe. A visit to Wynwood is all about being surrounded by art and immersed in the experience, making R House the ideal spot for dinner in the area.
11 p.m. –- Bust a (silent) move
There's no better way to embrace the offbeat vibes of this Art District neighborhood than by dancing with strangers to the tunes of your choice. The silent disco trend has caught fire, making appearances at festivals across the nation. At The Wynwood Yard, a pop-up multi-purpose venue that's constantly bustling with food trucks and special events, you can try it for yourself. Sound Off Silent Disco happens every other Saturday. You may feel a bit reserved at first, but as soon as you turn on your headphones and immerse yourself in the crowd, you're sure to let loose and experience something unforgettable. The event goes until 2 a.m., and tickets range from $5-$15, depending on the time of purchase.
SUNDAY
12. Noon –- Brunch with the baker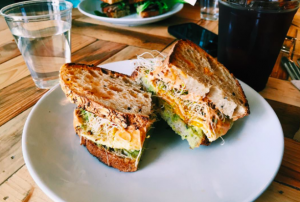 After an exhausting weekend packed with activity, brunch is the solution. Zak the Baker is a culinary destination of its own, with a modern twist on Jewish deli fare and freshly baked signature bread by the loaf. While the full plates make for a stellar breakfast, the ZTB croissant alone is worth traveling to Wynwood for. It is perhaps one of the most delicious food items in the Miami area, earning it recognition in publications such as Ocean Drive and Bon Appetit magazines. Round out your Wynwood visit with a buttery bite of perfection to fuel one last lap around the murals.
If You Go
Location: Wynwood Art District
Hours: Hours of operation vary by gallery and exhibit, but most public outdoor murals are accessible 24/7.
Cost: Admission is free for the Wynwood Walls and galleries in the neighborhood
Parking: Nearly all street-parking in Wynwood is metered, so download the Pay by Phone app to conveniently purchase parking through your mobile phone. While the main streets are often crowded with cars, especially during peak times, there's often plenty of availability just a couple of blocks away.
Lodging: There are no hotels in the neighborhood itself; however, a few options that are about a 10-minute drive from Wynwood. The DoubleTree, which has rooms at $135 per night, and the Hilton, which starts at $211. Airbnb also offers rentals in the area that work for a wide range of budgets. Options start around $50 per night and can reach the thousands.
For more information: See an interactive map of this trip or visit wynwoodmiami.com.