Posted March 10, 2022
By VALERIA PALLADINO
Monday morning, 6 a.m., wandering around the streets of Brickell Avenue. People in suits walk beside you. The lady with the cute white Pomeranian greets you. The young gentleman, dressed in active gear, runs past you. The streets are active; ambition is in the air.
Known as one of the largest financial districts in Miami, Brickell is currently one of the hottest locations in South Florida. An embodiment of everything that Miami currently represents: a mix of cultures, a desire for luxury, and of course, the striking skyscrapers.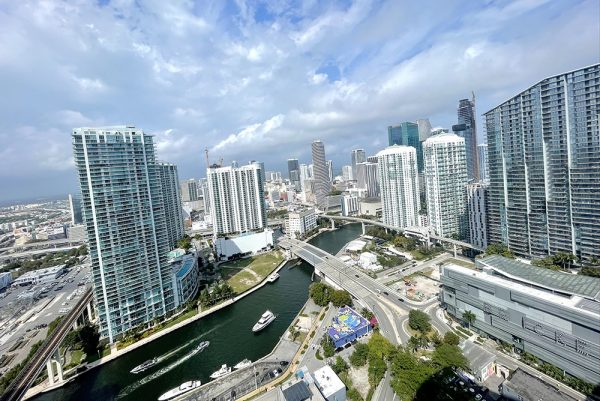 The neighborhood surrounding Brickell Avenue is home to five-star hotels, luxury condominiums, sophisticated restaurants, popular nightclubs and no fewer than 53 banks. Plus, it is all at a safe walking distance.
"Demand in the area is remarkably high. People are drawn to Brickell for many reasons. However, the most important reason is its walkability factor. Brickell has the tremendous advantage of providing its residences with proximity to many entertainment venues, restaurants, shops, and more," explained Dilay Escalante, a member of the sales staff for Brickell Realty Group.
Walking down the streets of Brickell, the tall, illuminated buildings surround you from every point of view. It becomes obvious that this area appeals to both residents and out-of-town visitors: Crowded restaurants, coffee shops, and hotels at every corner.
People in gym wear, people in suits, teenagers in short party dresses, and homeless men dressed in old rags — all in the same landscape. All in the peak of your eye. An active environment both during the day and night: 24 hours every single day.
"It seems to me that Brickell is the most livable part of Miami, in the sense that you have absolutely everything in your proximity, you don't need a car. From banks to dry cleaners, restaurants, opticians…. Whatever comes to mind, there's no need to leave Brickell," said David Abilleira, a 48-year-old man, who lived in Brickell for six years.
If you are having issues with your car, or even if you do not own one. Brickell is the right place for you. It is not necessary for anyone who builds their life inside of this neighborhood.
Brickell City Centre is just around the corner (701 S. Miami Ave.). A four-level shopping mall designed to be partly indoor and partly outdoor; an environment that allows for direct access to the streets while still having a roof to rely on.
Many brands that are new to the U.S. are in this mall. Neighboring them are small cafes and busy restaurants on the second and third floors.
The top floor has the CMX Cinemas, the first one in the U.S. In front of Pubbelly and Tacology, a Japanese and a Mexican restaurant, is not only a dine-in Cinema but also a bar and lounge. When entering, look to the right, there is a sports bar filled with screens.
Inside the screening rooms there are gray reclinable leather seats. Every section of two seats is discretely spaced out from the rest, creating a romantic atmosphere.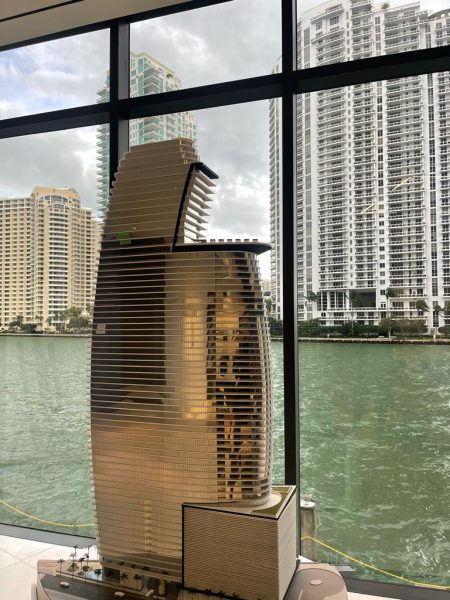 Housing approaches exotic and extraordinary. The Aston Martin Residency, located at 300 Biscayne Blvd. Way, is one of the newest "ultra-luxurious" condos in Brickell. It will be completed by February of next year.
"We are 20 apartments away from being sold out. We're talking about 391 apartments; a 66-story tower. Right now, we are finishing organizing the floors, kitchens, and all that part," said Jessica Juliao, a sales agent for Aston Martin.
She explained the two main characteristics which make the Aston Martin stand out from all other Brickell buildings.
"We offer the exclusivity and high end that no other project or building has," Juliao said. "Aston Martin is a global brand, meaning that regardless of if you are in Shanghai, Dubai, or Chile, when you hear the name Aston Martin people know that it is a luxury car brand. They think of James Bond, English, all characteristics that specifically address very clear points."
When COVID first hit, Aston Martin started to receive numerous phone calls and emails. Their client base consisted of people that now had the option to work remotely.
"People with higher acquisitive power, people who lived in New York, in front of Park Avenue, on a 48th floor, who were locked up, in a state that repressed so much, and that charges such expensive taxes, started to consider a state like Florida. Specifically, the Miami area, and within Miami, what resembled New York the most was Brickell and Downtown. So, for them it was an immediate reference," added Juliao.
Andrea Heuson, a finance professor at University of Miami, stated that COVID has in fact distorted prices in a good way. She explained how, "In Miami you can live outdoors. There are so many amenities like Brickell City Centre where you can go shopping but you're still outdoors."
On various occasions has Brickell been compared to New York. The place has a feeling of New York that cannot be neglected. Specifically, the active streets, proximity of places, and the office towers which catch your eye.
Escalante also mentioned New York as an influential location.
"Although people from all over the world buy real estate in the financial center of Miami, buyers from Los Angeles, New York and locals comprise 80% of condo buyers in the area," she stated.
Heuson confirmed that some of her students have decided to take advantage of the ability to work remotely and live in Miami. "I'm finding lots of my alums who have been out of school for three or four years instead of moving from one place in New York to another place in New York, they're moving down here", she said.
Brickell Avenue has a reputation for prestige and is known for its expensive condominiums, which are highly ranked due to their development.
"In the case of the Aston Martin, the prices range from $1 million to $50 million has its own market because there are countries that do not consume that range, just as there are countries that consume it to a great extent," Juliao noted.
Because of the high demand and prices, Escalante said that the Brickell real estate market is experiencing a tight supply of available condominium inventory.
"As of now, condo prices in the area are about 22% higher than the median sales price in the country. The median sale price of a condo in Brickell right now is $450,000," said Escalante.
Heuson explained that even though prices are considered high they are not unreasonable considering their typical clients.
"A lot of the people who buy condos or live in Brickell are working here in industries where they are very well paid, like the tech industry, or hedge funds. To them living here, and being able to live here and work here, is cheaper than what they would have to pay if they lived in San Francisco where the tech industry is moving from, or if they lived in New York where the financial industry is moving from."
By whatever name it is called, be it Millionaire's Road, Wall Street South or simply Brickell, this neighborhood has nearly tripled its population since the 2000s. It has grown rapidly and there's still numerous projects on the table waiting to come.
When it comes to investing in Brickell, Heuson believes that now is not the best time.
"Given all of the geopolitical uncertainty we've had the last 10 days and the uncertainty about what the increase and oil prices will do to the economy, I don't think that I would make any significant financial commitment this week until this situation is resolved."
She added that "Assuming that it is resolved in some way that will help those people over there in the Ukraine and bring our prices for food, fuel and our supply chain issues back to normal in six months or so then I think this is a fine time to make this kind of purchase."
"Interest rates will probably rise and if you're going to buy any sort of real estate and you're going to finance it you'd like to be able to take advantage of lower interest rates, so a month ago I would've said this is a good time."
It's a mix of everything: restaurants, hotels, clubs, bars, gyms, banks, residences.… It's almost promising that you will find about anything walking down the streets of Brickell.
Tourists can enjoy the various restaurants, filled streets, shopping centers, parks, hotels, and night clubs that surround them. Brickell Park is one example of the many options, known as both a park and an archaeological zone. It showcases Brickell's history and founders. When it comes to food, nightlife and entertainment, there's something for every taste.
On Friday nights: the hottest spot, the wildest nightlife, and the place to be, but on weekdays, the flip is switched. It's officially the financial sector of Miami, where the money is at.
Night Clubs
Brickell Avenue has a variety of bars and nightclubs to choose from. From tranquil bars to wild night dancing clubs.
Candela, TuCandela and Rosario are three Latin clubs which provide a taste of Latin Culture which serve as both restaurants and bars.
The Sugar East rooftop bar takes advantage of Brickell's skyline and impressive skyscrapers. Placed on the 40th floor of the EAST hotel. Known for its unique Hong Kong cocktails and classy setting. Open during the day to watch the sunset and at night to admire the gleaming skyscrapers illuminate.
Komodo Lounge is set in a three-story building providing both outdoor and indoor spaces. The lounge area is designed to feel intimate as it is a limited space. The walls are decorated in colorful pop art. Overall, Komodo Lounge is well-known for the DJ's and artists that are brought to perform.
When it comes to nightlife, there's a long list to choose from. It depends on if you want to sit at a bar and have a drink, go watch the beautiful Brickell view, or party until you blackout. There are multiple choices for all three options.
Restaurants
In just about every corner there's a new restaurant waiting for you. For every taste and nationality, you might be craving. From fast food locals to elegant environments.
The Nusr-Et steakhouse is a popular choice for sports fans and overall beef lovers, and it is known for its chef, "Saltbae" and his salty touch.
Pubbelly is one of the many Japanese eateries in Brickell. It has a unique touch since it also creates Latin inspired dishes. It has earned multiple awards and is best known for its sushi.
Tacology on the fourth floor of the Brickell City Centre, is a "mercado style" dining area. It has multiple stations of food to choose from, celebrating the Mexican culture.