Posted November 8, 2019
By ANYI ZHANG
A cup of cortadito Cuban espresso, a taste of Latin infusion guava cake, a pack of cigar, a glass of mojito, and a handful of local hangouts, all these elements consisted of the Cuban culture in Little Havana.
Little Havana, also known as Calle Ocho (8th Street), is filled with rich Cuban-American heritage, it's at the heart of Miami's urban core, and is the soul of its immigrant people, spreading its culture for both locals and tourists.
In here travelers will find locals grabbing an afternoon cortado or a fresh fruit batido, talking politics over a game of dominoes, dancing salsa with Spanish live music, or eating authentic dishes from all over Latin America.
Little Havana is best known neighborhood for Cuban population in the world and is characterized by its street life, restaurants, music and other cultural activities. Originally a lower-middle-class Southern and thriving Jewish neighborhood in the 1930s, Little Havana emerged in the 1960s as the population of Cubans in the area grew significantly.
Taking a tour at Little Havana would be the best way to know the history, to understand the culture, and to get closer to the locals.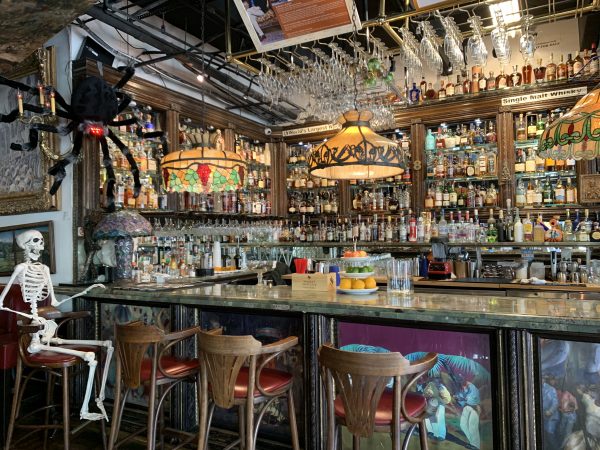 Travelers shall begin the tour at the Cubaocho Museum and Performing Art Center, a Fine Art Gallery with the largest Cuban Art Collection from 1800 to 1956 and a collection of cigars and the largest collection of Rum with around 482 bottles of different brands.
It's also the best place for live music and performance in Little Havana. It's quiet during the day, but  it's full of energy and passion at night.
"All the paintings here are for sale, people love to add some Cuban atmosphere to their houses," said Roberto Ramos, the president of Cubaocho Museum & Performing Arts Center, who has worked in the gallery for more than 10 years, "the wine on the top shelf of the bar are only for exhibition but not for sale, they have a history from 15 to 80 years."
We then visited a classic cigar factory to witness the art of cigar-rolling from the experts, who are able to make 100 to 120 cigars per day. They put the cigars gently in the box when finished, and smoke one to make sure they are perfectly made, along with a little music and dance during their break.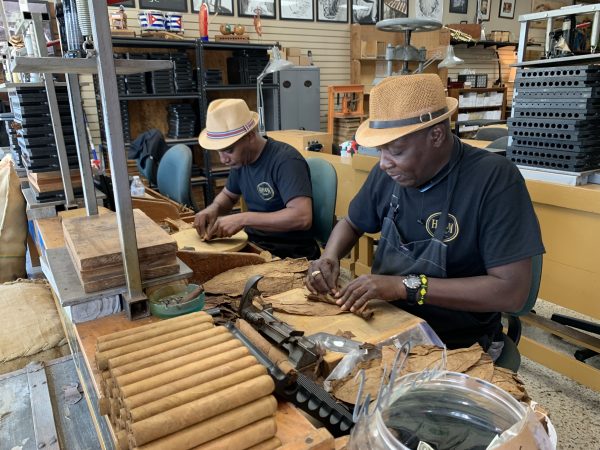 Ka Ki So, a graduate student from the University of Miami, who took this tour with her best friend because they were planning on traveling to Cuba soon.
"This was a great way to get a little feeling for Cuba, I loved the food, music and the people!" So said, "I enjoyed walking around, seeing different shops, the Cuban coffee was very strong and sugary but it was delicious!"
Born in this beautiful city Camaguey in Cuba, Zarelys Diaz, our passionate tour guide who started her job in Miami in 2017, said she loves Cuba being as the third generation, but she believes changes have to be made for the country to get better, but the restrictions have also made things harder.
"I love to meet new people and learn about different cultures. My passion is to show visitors interesting places of the city to experience the local culture and see what makes Miami so unique and really immerse them into the Miami culture," said Diaz.

She then took us to a local juice shop to try some freshly pressed sugarcane juice and we got the opportunity to talk to the owner, who's a Peter Pan. The term Peter Pan, refers to the elders in Little Havana who were brought to America at a very young age by their parents to receive a better life and education, some of them have never even met their parents.
Most of them living in Little Havana have mixed feelings towards Cuba. they love the country and the culture, yet they don't want to go back, and they believe changes have to be made for the country to get better.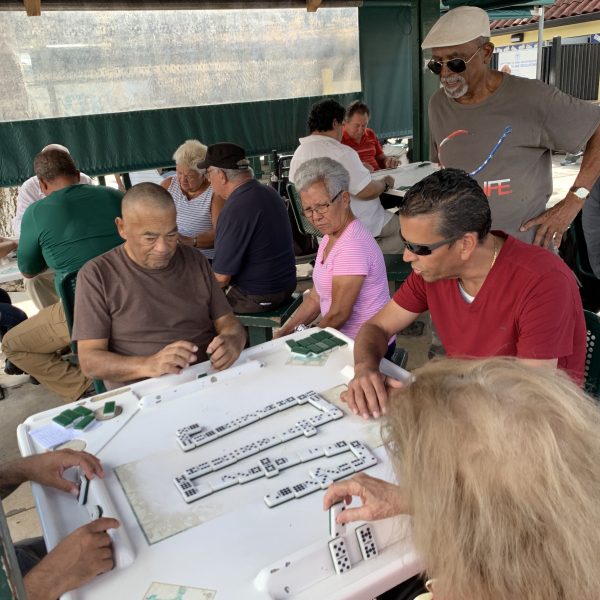 However, they still enjoy their lives here by playing domino at the Maximo Gomez Park, also known as the famous Domino Park.
This park has strict rules where players must be over the age of 50 to play, they have to show their ID at the window to get the dominos. This park also prohibits players from drinking alcohol and wearing inappropriate clothing. 
After learning about how to play Domino, we stopped by at a local bakery to try cortadito, the Cuban espresso, which was very strong and sugary, and we got a taste of some desert including the Guava pastry.
I'm so in love with Little Havana, with the friendly people introducing me to their culture, with the tasty Cuban dishes, how the locals greet each other, how they express their emotions through music and dance…it's so different from any other countries I've traveled to. People here are so passionate about telling you their stories, teaching you the local traditions, and to start a conversation with you no matter where you come from. The Latin culture is deeply immersed in their music, colorful painting, and the smiles on their faces.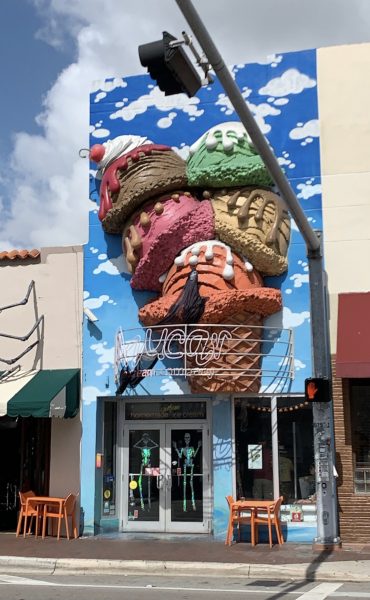 We also stopped at Azucar Ice Cream Company, one of the best ice cream shops in Miami.  This family-owned shop is located right across from Tower Theater, which was founded in 2011 that offers authentic Latin ice cream and sorbet flavors made with only the highest quality ingredients.
Almost everything in the shop is locally-sourced, from the mamey picked up down the street at the Los Pinarenos fruit stand to the sweet plantain prepared at El Nuevo Siglo Grocery Store.
The best flavor is the Abuela Maria made up of premium vanilla ice cream mixed with ruby red guava, rich cream cheese and crispy, crunchy Maria cookies.
One of the best restaurants which tourists must go when visiting Little Havana is Old's Havana Cuban Cucina and bar. It's a Traditional Cuban Bar & Restaurant located in the heart of little Havana, is a popular spot for both locals and tourists which serves authentic Cuban food and cocktails, and tourists can definitely get a real taste of Cuba and enjoy the music and photos from the old ages on the wall.
Larry Sosa, an 80-year-old performing dancer at a local restaurant, originally born in Havana, Cuba, has been dancing for over 50 years,
"My parents are both dancers, so I grew up in this kind of environment. I want to use music to bring people together, for them to get to know my culture more."
He then offered each of us a mojito as a closure to this amazing tour at Little Havana.
Turner Cooper, a tourist from Philadelphia, came to visit Miami for four days, said he loved Little Havana and the culture, and he would definitely come back again in December for the food and music.
"I love this area," said Cooper, "there's definitely a level of resistance in the air, but there's still joy when people are sharing food and greeting each other."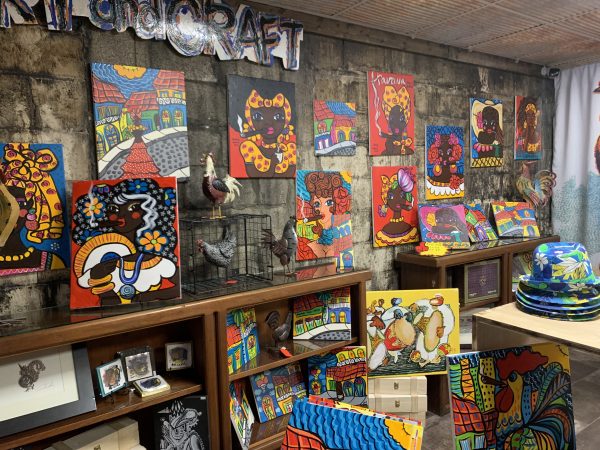 Since the economy in Little Havana mainly depends on tourism, the increased number of tourists have contributed to the development of the area.
"The development of Little Havana is significant," said Dayamis Hernandez, owner of D&D Art Conservation Restoration, "There's an increase in demand for the artwork in our shop. We love to help other artists, those who don't have the opportunity to sell art or to open a gallery. We also love to see this area is developing so quickly, more and more tourists are visiting every year."
What I love about Little Havana is vibrant culture and unique environment of this neighborhood that brings people together through the music, delectable food, and the genuine warmth and fun the people bring to the domino table.
From knowing the history of Little Havana, to tasting traditional Cuban coffee and pastry, to hearing stories from first-generation immigrants from Cuba, Little Havana has brought me some feelings I've never felt before. This place has its own magic to make tourists fall in love with the culture, music, food, and nightlife. Have a mojito and enjoy a Latin night.
If You Go
Reserve: Book the trip on Airbnb: https://www.airbnb.com/experiences/398708.
Address: 1465 SW 8th St., #106, Miami, FL 33135.
Meeting Point: Entrance of Cubaocho Museum & Performing Art Center, 1465 SW 8th St., #106, Miami, FL 33135.
Tour Time: 11 a.m. – 1 p.m. Please arrive 15 minutes prior to the start time.
Cost: $39 per person.
What's Provided: food and drinks.
ID: Don't forget your ID if you are 21+, the bars will request that for sure.
Experiences Cancellation Policy: Any experience can be canceled and fully refunded up to seven days before the experience begins.