Posted November 12, 2016
By TAYLORANN MILLER
Now and then we catch glimpses of the world of once upon a time and happily ever afters. Story books have given us the glimpse of what a fairy tale life is like from castles, horse-drawn carriages, balls and happy endings.
To enter this type of world, we immediately think of going to Disneyland and enter Cinderella's castle. What if you were told you didn't need to go to a theme park to experience such a dream-like setting?
Once upon a time in the mid 1920s, a towering castle-like hotel was built in the heart of Coral Gables. No, Walt Disney did not create this, it was the work of land developer George E. Merrick along with John McEntee Bowman.
You drive through a residential community, so quiet, you feel you have entered an entirely different part of Miami, especially in comparison to South Beach. Tropical flora aligning the roads, creating a canopy. In the distance, through the trees and extravagant homes, you spot a tower.
A castle in Miami? As you get closer to this structure, you notice the Miami sun beaming more so on this center of Coral Gables. No even better a classic Mediterranean architecture, so elegant, one must think it is a masterpiece. Though the surrounding area gives you the Floridian vibe, this architectural structure is a mix of Italian, Moorish and Spanish influence.
You will be in awe. Surrounded by palm trees and a flowing fountain you find yourself tilting your head back to look at the big bright colored structure. You enter through the arched driveway and up comes valet and by staff members, with a genuine greeting:
"Welcome to The Biltmore Hotel."
Upon entrance, you understand why Travel & Leisure and Forbes awarded this one of the best and most luxurious hotels in Miami. You feel as if you entered a fairy tale world; into royalty. The staff's full attention is you. You feel royal or as if you just stepped off the red carpet. The Biltmore is complete with exquisite; hand painted frescoes on the ceilings, travertine floors, elegant marble columns, beautiful leaded glass fixtures, carved mahogany furnishings and lavish gardens.
Picture this all in the shadow of a spiraling Moorish Giralda tower. You will begin to wonder if you have gone to a Spanish castle or a grand Venetian palazzo.
The Biltmore Hotel is for guests and visitors, no age limit. This historical landmark has stood the test of time and witnessed its surroundings transform. The Biltmore Hotel offers free tours of the property every Sunday at 1:30 p.m. and 2:30 p.m. where you can get more in-depth history information on the tour.
Let's rewind time and go to Jan. 15, 1926. Imagine 10 months and $10 million of hard work and anticipation, George Merrick and John McEntee Bowman's dream debuted, known as The Biltmore. If you were lucky enough to be a part of the reveal you then attended a grand gala, some would compare it to a Great Gatsby party.
Champagne was flowing, and guests were seen fox‐trotting to the three orchestras, one led by famed bandleader Paul Whiteman. Then for the first time The Biltmore's Giralda Tower was lit marking the beginning of the landmark era in South Florida.
The Biltmore is looked upon as one of the trendiest resorts in the country, known for hosting heads of state, athletes, movie stars, gangsters and politicians. The crowds varied from the Duke and Duchess of Windsor, Ginger Rogers, Judy Garland, President Franklin D. Roosevelt to gangster Al Capone, but the list doesn't stop there, to this date you will see many more.
The Biltmore put on every type of event ranging from gala balls to aquatic shows and fashion shows on the 23,000 square foot pool (which used to be considered the biggest hotel swimming pool in the continental US), to elaborate weddings and world‐class golf tournaments.
As many as 3,000 spectators would turn up on Sundays to watch these events. Fun fact, before knowing Johnny Weissmuller as a tree swinging Hollywood star, aka Tarzan, he used to be a swim instructor at the Biltmore.
Just months after the hotel opened, The Biltmore began to face many hurdles. First, a major hurricane struck. While the hotel was undamaged, it provided shelter for more than 2,000 survivors. Then World War II occurred and the War Department took over The Biltmore, converting it into a hospital in 1942. The building was transferred to the Army in 1946 and renamed Pratt General Hospital.
In 1973, the City of Coral Gables was granted ownership of the hotel through the Historic Monuments Act and Legacy of Parks Program.  However, the Biltmore remained unoccupied for almost 10 years because the city couldn't decide what to do with it.
Eventually, in 1983, the city oversaw its full restoration to be opened as a grand hotel. Four years and $55 million later, The Biltmore re-opened Dec. 31, 1987, now as a four-star hotel and resort. Another "Great Gatsby" event was in order holding this reopening. More than 600 guests appeared at this black-tie affair. The hotel remained open for three years, but closed yet again in 1990 due to the country's economic decline.
Not much time passed before the Biltmore was claimed. In June 1992, Seaway Hotels Corp, a Florida hotel management firm, became The Biltmore's operators. Seaway embarked upon a $40 million, 10-year renovation program restoring The Biltmore to its world-class superiority. The company invested in complete guest-room renovations, built a fitness center and European spa.
The Biltmore also spent approximately $3 million to restore the historic 18-hole championship golf course and its landmark swimming pool. That is why when you go now there is no longer an 85-foot high diving tower for it was transformed into a tropical waterfall, and luxurious private cabanas were assembled alongside the pool. The 23,000 square-foot pool was emptied and completely resurfaced with polished marble.
On June 19, 1996, when the National Register of Historic Places designated The Biltmore a National Historic Landmark, an elite title offered to only three percent of all historic structures.
Today, the 273 -room hotel and resort is known as The Biltmore and is indeed as elegant as the day it opened. The Biltmore's rich history makes Coral Gables its most preeminent historical landmark. No wonder why this hotel has been used as locations for movies and TV shows like "Bad Boys," "CSI Miami," "Miami Vice," "Ballers" and others.
If the history isn't enough for you, here are some reasons as to why you should visit the Biltmore: You can swim in one of the nation's largest hotel pools, where you can get a private cabana and the popular acai beverage.
Matthias Kammerer, son of the Biltmore Hotel's manager, says "The pool is my favorite part. How could it not be? Lounging in that atmosphere is so peaceful and luxurious. The staff is always walking around to serve you food or drinks so you don't have to move. You will find yourself only moving from the lounge chair to the pool and back. Definitely recommend the acai drink. I always look forward to getting that."
If you don't want to be by the pool, you can play golf on a championship course. You can enjoy an unforgettable meal at one of their three signature restaurants, Palm d'Or, Fontana and Cascade.
Stephanie Meyer, former employee at Palm d'Or, stated "What I liked best about the Biltmore that I could identify myself with the hotel and the employees are so passionate! Between the employees and the tremendously good food it exceeds the guests' expectations and there is nothing better than happy customers!"
You can take part in the famous Sunday Champagne Brunch in the Fontana courtyard. You can pamper yourself with the full-service European Biltmore Spa. You can take a culinary class or "Culinary Bootcamps" given by the Biltmore's very own chefs. If that still doesn't attract you, attached is a link to the events this month where you can find what fits your interest.
Biltmore Events
Jordan Benheim, a Coral Gables resident, stated "I once went for a tea party at the Biltmore. I felt royal, from the ambiance, to the service and the variety of teas and cakes. It was so elegant and enchanting; it was an unforgettable experience."
To fully grasp why the Biltmore needs to go on your to-do list, imagine this. The Biltmore offers one of the country's most famous and lavish champagne brunches. Every Sunday you get the choice of sitting in the stunning courtyard, of the Fontana restaurant, or inside.
As you are escorted to your table you will be taken back in awe by your surroundings. From the façade to the soothing sounds of water cascading from the courtyard fountain, to violins playing to a smell so exquisite your stomach will begin to rumble. You couldn't ask for a better atmosphere.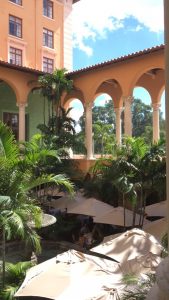 Once you are seated, you will be introduced by not one but two of your very own servers, who will make sure your glass is always full of champagne and all of your desires are fulfilled. It is recommended that you do one lap around before filling your plate with the first cuisine you see.
Every room you enter is full of endless amounts of food with staff waiting to serve you. The variety of colors and smells that surround you is incredible. From delicacies, such as caviar, smoked salmon, shellfish, carved meats, fresh omelets, pasta, sushi, freshly baked bread and more. Whatever you want it is sure to be there.
You will be tempted to try everything, so make sure you go on an empty stomach. However; you will want to save room because you do not want to make the mistake of being too full and missing out on the wall of desserts prepared by Executive Pastry Chef Olivier Rodriguez.
Brian Miller, a guest at the Brunch, stated "There is just no words worthy enough to describe this. Just being in this atmosphere is enough for me. I've never seen this much food before, it's all so good. The staff too is unbelievable and so genuine. I definitely recommend others experiencing this." From live entertainment, to bottomless Champagne, Bellinis and more, the Biltmore's Sunday Champagne Brunch is essential for guests and visitors to experience.
"Many people will come and go, but this structure will remain a thing of lasting beauty," guest Dr. Frank Crane stated at the gala opening of the Biltmore in 1926.
If You Go
Reservations 
for hotel
Telephone: 855-311-690
Fax: 305-913-3158
Check-in is at 3 p.m.; checkout is noon
There is a 72-hour cancellation policy
Tip: Check out the packages and specials before reservation, there might be a deal you wouldn't want to miss. Packages & Specials
General inquiries

Dining reservations

Main Telephone: 305-913-3200
Find your craving:
Palm d'Or (French Cuisine)
Fontana (Italian Cuisine)
Cascade (Café – Casual)
19th Hole (Café – Casual)
Sunday Brunch Price is $85 plus tax and gratuity (per person) and $42.50 for children (ages 5 – 11). Hours of operation are Sunday 10 a.m. to 4 p.m., last seating at 2 p.m.
Reservation for Private Poolside Cabanas
Telephone 855-311-6903
Hours 10 a.m. to 6 p.m.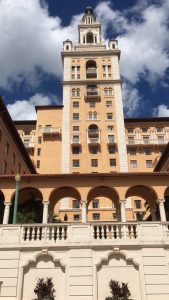 Book a Tee Time or the Spa
Online or main telephone 855-311-6903
Tip: Check out the deals and packages of the month.
Book Your Next Meeting
For more incentives visit The Biltmore Hotel website and request for proposal.
For more events and activities visit The Biltmore Hotel , or call. The staff is beyond helpful and nice, with its goal that you have the most amazing time. Call 855-311-6903
More Information
The hotel is approximately a 15-minute drive from Miami Airport, located in the community of Coral Gables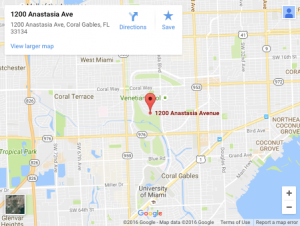 Rooms range from several suite types to three-bedroom penthouses. All have feather bedding, 340-thread-count Egyptian cotton duvet covers, sitting areas and picture windows with views of the golf course, pool or city.
Amenities include a full-service spa, 18-hole golf course, lighted tennis center, 10,000-square-foot fitness center and 21,000-square-foot outdoor pool. Fine and casual dining options are on-site. Weekend champagne brunch and high tea are served.
Address
1200 Anastasia Ave., Coral Gables, FL 33134