Posted November 23, 2019
By PAM GIGANTI-BUNGE
DELHI — There's nothing more frustrating on a trip to an exotic, distant place than simply not having enough time to see all the things for which the area is well known. Case in point, I tagged along on my husband's recent business trip to Delhi, India, and had little time to do much sight-seeing. To explore the city's famous ancient landmarks, temples, mosques, parks, and shopping zones, would take at least a week. Unfortunately, our time to be tourists was truncated to just one afternoon because of his business meetings and related events.
With a map and guidebook in hand, we needed some direction about how to embark on this whirlwind, sightseeing excursion. The concierge at the Oberoi Hotel was most valuable in setting us up with a well-known tour guide, Prem Shukla, and a driver from the hotel to whisk us around for the mere five hours we had to spare.
Delhi is not only the capital but is also the largest city in India with 270 square miles in its urban core alone – and is home to nearly 30 million people. Getting around was going to be a challenge, but Prem quickly mapped out the best sites to explore given our time constraints and proximity to our hotel. Our journey was essentially a circle that began at the hotel and moved northwestward clockwise around to the east and back south again finishing where we had begun.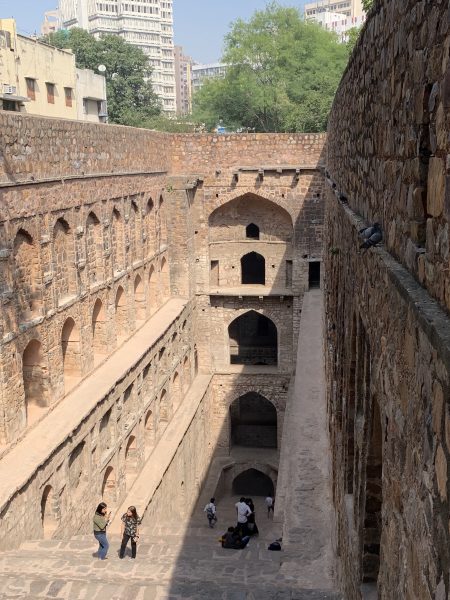 India Gate – This is one of India's most famous landmarks and is reminiscent of Paris' Arc-de-Triomphe. It stands 42 meters high or nearly 138 feet tall in the center of a major intersection in an area designated as the National War Memorial. Vehicles don't go through, but rather around a traffic circle at the site, which sits in a pedestrian friendly park, flanked by wide lawns and fountains. The famous Rajpath, which literally means "king's way" is a long wide ceremonial avenue that connects New Delhi's parliament buildings to India Gate. When you are pressed for time, there's no need to get out of the car and explore the grounds. You can simply drive around the imposing structure admiring it from all angles. India Gate commemorates the 70,000 Indian soldiers killed while fighting for the British Army during World War I and is etched with the names of more than 13,500 British and Indian soldiers who fought in the 1919 Afghan War. An eternal flame glows day and night under the arch in honor of those who died in the Indo-Pakistan War of 1971. At the top of the structure on each side is the word India etched into the stone in large capital letters. At night, the India Gate and its surrounding fountains are lit in dramatic fashion with the colored floodlights. Rajpath, India Gate, New Delhi, Deli 110001, India +91 11 2336 5358.
Agrasen ki Baoli – Prepare to take plenty of pictures at this magnificent subterranean old well that takes your breath away at first glance.  Flanked on both sides by arched stone walls, 103 wide, chunky steps lead down to a dark, ancient abandoned well believed to be around 5,000 years old. Baoli literally means stepwell and there are about 100 of them throughout Delhi.  Agrasen is one of a handful of wells that has been preserved by the government and designated a protected monument by the Archeological Survey of India.  The descent of the stairs is alluring and a bit disorienting.  As birds dive in and fly out of the structure, the flapping of their wings echoes through the chamber in an eerie fashion.  Many visitors linger for a while on the steps admiring the wells grand structure. Haily Road, KG Marg, near Diwanchand Imagine Center, New Delhi, Delhi 110001 India. Open: Daily 9 a.m.-5:30 p.m.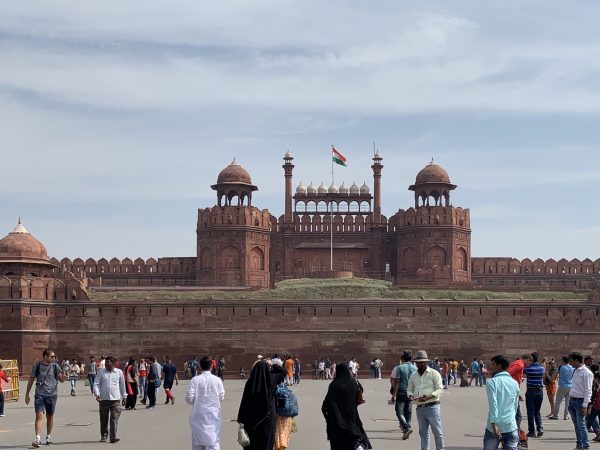 Red Fort – Located in Old Delhi, the Red Fort, also known as the Lal Qila is a UNESCO World Heritage Site and is the largest historical structure in Delhi.  It consists of nearly 255 acres and was built by the famous Mughal emperor, Shah Jahan in 1648 as his palace when he moved the capital from Agra to Delhi. The fort served as a royal residence of the Mughal emperors until 1857 and is one of the best examples of Indo-Islamic architecture.  Its red sandstone walls are what gave it the name, Red Fort and made the palace a near impenetrable fortress.  The Prime Minister still delivers an Independence Day speech here each year on Aug. 15 and unfurls an Indian flag atop the citadel's ramparts at the Lahori Gate, the main entrance.  Each night, a sound and light show takes place in both Hindi and English.  A tour of the inside of the palace takes about two to three hours.  When time is limited, many tourists simply visit the Lahori Gate and take pictures from the outside.  Netaji Sbhash Marg, Lal Qila, Chandi Chowk, New Delhi, Deli 110006, India. Tuesday-Sunday, 9:30 a.m. – 4:30 p.m. Admission: 250 rupees. Sound and light show times vary by month but start after sunset.  Admission: Weekdays, Adults, 60 rupees, Children 3-12, 20 rupees. Weekends, Adults 80 rupees, Children 30 rupees.
Jama Masjid – Located in the heart of Old Delhi sits India's largest mosque made of marble and red sandstone.  Stepping foot inside its massive courtyard is awe inspiring.  Here some 25,000 worshipers have room to gather.  The Jama Masjid was commissioned by Mughal emperor Shah Jahan in 1644 and was his final architectural masterpiece.  It took 5,000 workers six years to build and boasts three gates, four towers and two 131 feet high minarets.  The mosque houses several Islamic relics such as an old Quran written on deer skin and the sandals and a hair from the beard of the Prophet Mohammad.  Upon entering the mosque, visitors must remove their shoes and women must don a robe, as well as men in shorts.  Jama Masjid Rd, Jama Masjid, Chandi Chowk, New Delhi, Delhi 110006, India.  Camera fee: 300 rupees. Shoe keeper fee: 100 rupees Open daily: sunrise-sunset, except 12 p.m. – 1:30 p.m. for prayer.  +91 112326 8344.
Raj Ghat – This peaceful, well maintained park is the memorial site to Mahatma Gandhi, the founder of India's independence movement. A large simple black marble platform marks the spot where he was cremated after his assassination in 1948. The platform is decorated with fresh flowers and holds an eternal flame. Guests enter the park through a gate and must go through security. Once inside, it's about a five-minute walk up a large concrete pathway lined with several of Gandhi's quotes to get to the site. A high viewing wall rings the area and provides bird's eye views of the memorial. There are wide green lawns and beautiful trees in the park, but no picnicking is allowed. Other notable Indians are memorialized here as well, including former prime ministers Jawaharlal Nehru and Indira Gandhi. Mahatma Gandhi Rd, New Delhi 110002, India. Open: Dawn-dusk, Sunday-Saturday.
Swaminaryan Akshardham – The largest Hindu temple in the world is relatively young and amazes visitors with its grandeur. This magnificent pink sandstone structure was finished in 2005 by some 8,000 workers and has quickly become of the most popular tourist attractions in Delhi. There is plenty to see and do here, including movies about Hinduism and the building of the Akshardham, plus educational boat tours. The entire area encompasses 23 acres and includes, parks, rides, lakes, sculptures and shrines. No photography is allowed in the temple and you must remove your shoes before entering. The detail in the scroll and sculpture work on the pillars and the ceiling is impressive. The temple devotes its existence to Lord Swaminarayan, believed by Hindus to be a manifestation of God and to the ideas of enlightenment regarding human existence. A 24-minute laser light water show takes place each evening after sunset. Visitors are screened before entering Akshardham, one side for women and the other for men. No cell phones are allowed inside. The bathrooms are unkempt and smelly. Bringing toilet paper is advised. NH 24, Akshardham Setu, Delhi India 110092. Adults, 170 rupees, seniors, 125 rupees, children 4-11, 100 rupees. Children under 4, free. Open: 9:30-6:30 p.m. Tuesday-Sunday. Laser water show times: 6:15 p.m. and 7:15 p.m. Tickets: Adults, 80 rupees, children 4-11, 50 rupees, children under 4, free +91-11-4344 2344.
Humayun's Tomb – A UNESCO World Heritage site, this is the first garden tomb on the Indian subcontinent and is one of the more popular tourist spots in Delhi. Visitors are impressed at first sight of this massive mausoleum. It's one of the best-preserved Mughal monuments and is the precursor to the Taj Mahal, built 100 years later. It was commissioned for the Emperor Humayun by his widow Hamida Banu Begun in 1565, nine years after her husband's death. The structure is made of red sandstone and is engraved in intricate detail. The tomb itself is made of yellow and black marble, topped by a white Persian marble dome. Leading up the structure, which sits atop a platform are large gardens, divided into four main parts, separated by walkways and flowing water meant to resemble the garden of paradise described in the Quran. Bharat Scouts and Guides Marg, Nizamuddin East New Delhi, Deli 110002, India. Open: Sunrise-sunset. Admission: Adults, 358 rupees. Children up to 15, free. 91-11-24647005.