Posted September 29, 2015
By MARCUS LIM
SINGAPORE — The aromas of local delicacies fill the air as people from all walks of life chatter in an open-air complex of Singapore.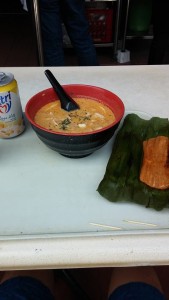 From people dressed in business attire to elders in shorts to tourists and teenagers with dyed hair and modern clothing, it doesn't matter if you are rich or poor, affluent or blue-collar, hawker centers are staple establishments located throughout Singapore and home to everyone looking for delicious cheap food and to unwind after their day.
"To me, this is what our culture is about: Hawker centers," 25-year-old Foo Zhen Lin said, a Singaporean, who has spent his entire life in the island country.
The food markets house many individual stores where the respective owners boast their own specialized craft. And there are numerous options a patron can have. Thick delicious egg noodles, the Malay delicacy of Nasi Lemak where rice, chicken wings and the spice of sambal is served on a pandan leaf, a bowl of spicy curry laksa, the food choices are endless.
There are always refreshing local beverages to wash it down, the malt chocolate drink, Milo to the pink rose syrup, Bandung and a fantastic array of desserts from the shaved ice cones of ice kachang to the mix of coconut syrup and ice that is Chendol, all prices are affordable to everyone, where each item is set to an average price of $3.
"Everything is so cheap here!" tourist 39-year-old Tynan Davis from the United States exclaimed. "And so many options. There's Chinese food, there's Malay food and Indian food!"
Home to those three groups, the city-state boasts diversity that attracts many tourists, even if it's among the smallest countries in the world. Food isn't the only thing the 5.5-million-strong country can offer though. The once tiny fishing village has evolved into a booming metropolis with beautiful buildings, fun attraction and a happening nightlife.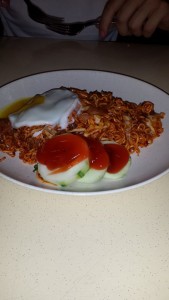 Famous for their iconic Marina Bay Sands Hotel, it is arguably one of the best-known features of Singapore. The three-tower 57-storey building is connected on the top with a boat-like structure where the sky deck on Marina is the world's largest cantilevered platform.
Locals and tourists alike go to the top to catch a glimpse of the beautiful city at night, where the colorful lights and decorations are sure to dazzle people in wonder.
The infinity pool stretches across the length of the boat and for those not fond of the water, a gorgeous sky park is nearby. And for those feeling lucky, the largest atrium casino is in the building with 500 tables and 1,600 slot machines.
A holiday in the Lion City is not limited to just a building and the city as there are many unique things one can enjoy. As a cultural hub for races, there are opportunities to learn about each culture. There's a Chinatown with beautiful Chinese temples to learn more about how the Chinese became a predominant race in Singapore, and what they practice. There's Little India where there are so many options for local Indian food and various mosques in Arab Street to see the Malay culture.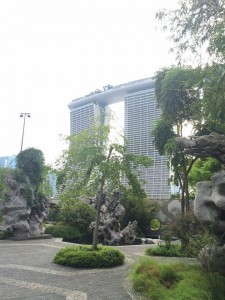 "Singapore is such a multicultural place," Aalekhya Reddam, an Indian local said. "The best part about our country is that it preaches unity and diversity. In school, cliques aren't separated by race. We all hang out with each other and are very close to one another. You learn so much about other cultures and that means there is so much different cultural holidays to enjoy!"
The social groups of age go to Clarke Quay to unwind after a long week. Known as Singapore's premier party place, the riverside quay boasts more than 50 bars, restaurants and the premier clubs to go to. Zouk, F Club, Attica and Zirca, the entrance fee is only $30 and a guaranteed fun night. With premier DJs playing and the modern electronic dance and pop music pumping in the background, it's a night to create memories.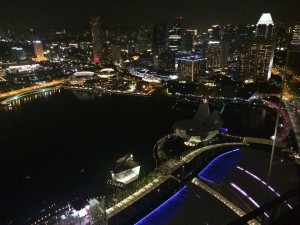 Known as a shopping country, there are many goods to be bought here. From branded designer bags and clothes to the latest technology gadgets and other fun miscellaneous items such as Anime figurines, you can find and buy anything you want in Singapore.
Every area has a humongous three-story mall which gives the citizens a place to go out with their friends, and a place for tourists to buy items. No shopping area is more prominent than Orchard Road though. A 1.4 mile-long boulevard, it is a major tourist attraction and entertainment hub. The commercial district is housed by numerous shopping centers and various brand names such as Gucci, Abercrombie & Fitch, H&M and many others.
More entertainment is included in Sentosa Island. A beach with sky blue water, there's the theme park Universal Studios, the wax museum Madam Tussaud's and a fun obstacle course in a jungle-like environment that is safe for children and fun for the family.
From a small fishing village to a bustling country, it is one of the premier hot spots tourists must go to, and many people use Singapore as their first stop to tour Asia. With many things to see and do, Singapore is fun for everyone of all ages and no matter how much money you make, it is a very affordable place for everyone.
If You Go
Population: 5.5 million
Visa: U.S. passports do not require a Visa to enter Singapore.
Exchange Rate: 1 USD = 1.43 SGD
Air: Average price is $1,200. There are direct flights from New York, Los Angeles and Chicago with various airlines. Layovers are usually in Hong Kong, Paris, Frankfurt, Doha or Tokyo. Flight time is anywhere from 17 to 26 hours.
Singapore Airlines: Voted as the number one airlines in the world in 20 consecutive years, passengers are assured a relaxing flight with many interactive multimedia to choose from and comfortable seats.
Durian: Do you have what it takes to try what is known as the smelliest fruit in the world? Hailed as the "king of fruits" in South East Asia, it is known for it's rich taste and pungent smell, it is a local delicacy but not for the faint-hearted!
Fullerton Hotel: A luxurious six star hotel
1 Fullerton Square, Singapore 049178
+65 6733 8388
http://www.fullertonhotel.com/default-en.html
Marina Bay Sands: One of Singapore's top attraction, there are many features to see, and a tranquil infinity pool to relax in.
10 Bayfront Ave, Singapore 018956.
Number: +65 6688 8888
http://www.marinabaysands.com/
Conrad: An affordable hotel that doesn't compromise comfort.
2 Temasek Blvd, Singapore 038982
+65 6334 8888
http://conradhotels3.hilton.com/en/hotels/singapore/conrad-centennial-singapore-SINCICI/index.html?WT.mc_id=zELWAKN0APAC1CI2DMH3LocalSearch4DGGenericx6SINCICI
Chinatown: 80 Eu Tong Sen St., Singapore 059810
http://www.chinatown.sg/
Little India: 60 Bukit Timah Road, Singapore 229900
http://littleindia.com.sg/
Clarke Quay: 3 River Valley Road, Singapore 179024
http://www.clarkequay.com.sg/en/
Sentosa: 2 Sentosa Gateway Singapore 099598
http://www.sentosa.com.sg/en/
Clubs:
Zouk: +65 6738 2988
Attica: +65 6333 9973
F Club: +65 6338 3158
Zirca: +65 6305 6768