Posted October 26, 2019
By ADAM SPECTOR
WINSTON-SALEM, N.C.- One mile from downtown Winston-Salem, there's a small 75 acre village that looks like it's been unchanged for the past 200 years, which stands in stark contrast to the rest of present-day Winston-Salem.
​The town consists of many colonial-style buildings made of wood, brick or both. You see people inside the buildings knitting, making pottery and sculpting the old-fashioned way.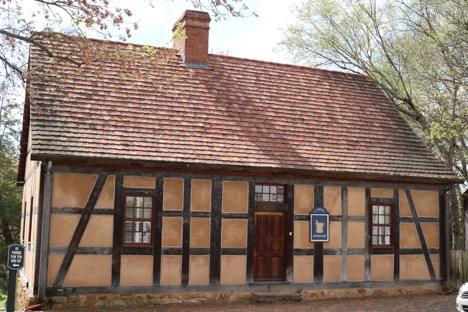 This small village is called Old Salem, which is a historic site that is a restoration over 60 years in the making.
Robert Fitzgerald, a longtime resident in Winston-Salem, said Old Salem looks very much the same now as it did when he moved into the Winston-Salem in 1990.
"Having lived in Winston-Salem for the past 28 years, I've seen a lot of changes in most parts of town. The one place that hasn't changed much is Old Salem," Fitzgerald said.
Declared a National Historic Landmark in 1966, Old Salem is one of Winston-Salem's better-known landmarks, which has various exhibits and sites to see.
This historic district was originally settled by the Moravian community in 1753. Old Salem features a living history museum that interprets the restored Moravian community. Many of the buildings that can be entered by the public have tours and or allow visitors to see how activities were done back in the day.
According to the latest annual report, a total of 192,477 paying visitors attended in 2015. While no specific numbers were given, attendance has raised 13.8 percent in 2019 compared to 2018.
Old Salem Tavern
Some of the first walk-in buildings from the front-end of Old Salem are the two taverns. One was renovated and made into the now popular restaurant, appropriately titled "The Tavern in Old Salem." The restaurant features dishes inspired by Moravian families from over 200 years ago.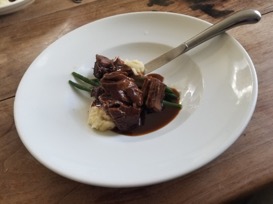 The Tavern in Old Salem serves locally farmed food, craft and draft beers and house made drinks in an upscale, but casual environment at very reasonable prices.
The building which is now a restaurant was built in 1816, as an annex to the historic 1784 Tavern in Salem. However, the part that connected the two buildings was removed.
The first tavern is now a walk-through exhibit, showcasing just how much different restaurants and hotels have changed in over two centuries.
According to Franklin Vagnone, president and CEO of Old Salem, and research from UNC-Chapel Hill. George Washington actually stayed in the tavern during a tour of the southern states in the spring of 1791. However, it's unknown which room he used.
"There are lots more stories about George Washington sleeping somewhere, than just him sleeping somewhere. There are many layers of history that never get told," Vagnone said. "When you go back to the tavern, go into the bar, then you will see that there were beds in the barn, which is most likely where the slaves slept. Documentation shows that Washington brought seven slaves with him on this trip. So that's a really interesting narrative that most people have traditionally not been told."
Old Salem Relics
One of these unique shops that visitors get to see in Old Salem is the T. Bagge Merchant, which was originally the town's community store. This shop now offers locally-made pottery and other crafts, such as candles and toys, as well as books related to North Carolina's history.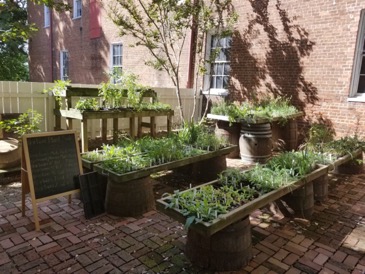 Nick Trusch, a student from Raleigh N.C., who has visited Old Salem a number of times, said he shops at T. Bagge Merchant every time he visits the area.
"While the items are more expensive than something from Walmart or Target, many of the items are handmade and that adds a personal touch to them," explained Trusch. "Not only that, but many of the items can only be found at these stores. This validates the higher prices for the items in my opinion."
Another unique shop at Old Salem is the Winkler Bakery. This bakery sells bread, cookies, and other baked goods. The twist here is that some of their baked goods are still made in a wood-fired oven that's over 200 years old.
The brick oven runs Tuesday through Saturday. Sugar cakes and bread are made on these days.
While one might assume that baking in this old-fashioned method would be far more complicated than modern baking, an employee at Winkler Bakery said otherwise.
"Much more complicated? No, but it's more time consuming, certainly more than a conventional oven," explained an employee. "Because you have to get this thing loaded, you have to fire it in the morning, you have to clean it out… and you have to wait until it cools down to a certain temperature before you can put your bread and sugar cake in."
The Winkler Bakery and T. Bagge Merchant are just a few of the several places to shop in Old Salem.
When did this Restoration Start?
Vagnone mentioned that restoration began back in the late 1940s by the National Society of Colonial Dames in America.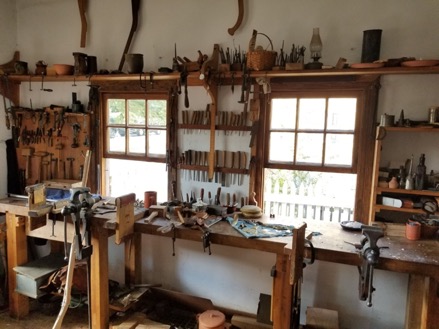 "This area used to be downtown. Tons of buildings back then had to be taken down in this area because they didn't work with the colonial buildings," Vagnone said. "1950 is when the real organizations started on the restoration of the buildings and it's been continuous since then."
While most of the buildings in Old Salem are more than 200 years old and restored, some of the buildings are reconstructions of the original buildings. All the reconstructions had pictures of the original place for reference. Buildings are reconstructed based on thorough archaeological investigations to identify and evaluate the specific features and relics that make these buildings look as close to the originals as possible.
"You'll see there are signs with information saying whether or not it's a reconstruction," Vagnone said.
Living Inside History
Of the many buildings that have been restored in Old Salem, the first to receive such treatment is the house that Vagnone currently lives in.
"It was actually something we negotiated in the contract," explained Vagnone. "Primarily because I knew that I wanted to live in the district because I would better understand changes that needed to happen and they agreed with me."
When asked about what it's like living in a house that is over 200-years-old, Vagnone noted that the doorways are too small and he hits his head at least three times a week.
"Otherwise, the house has been renovated. We have a kitchen, 2.5 baths, 3 floors, other than the doors, it's a completely normal experience," explained Vagnone. "There's electricity, there's plumbing, we've got heating and air-conditioning. The house was restored in a way you can actually live in it."

If You Go
Old Salem Museums & Gardens Administrative Offices– 600 S. Main St., Winston-Salem, NC 27101 for questions about ticket prices, call 336-721-7300 or visit https://www.oldsalem.org/
Winkler Bakery –521 S. Main St., Winston-Salem, NC 27101 for questions and orders, call 336-721-7302 or visit https://visitwinstonsalem.com/directory/view/winkler-bakery
T. Bagge Merchant– 626 S. Main St., Winston-Salem, NC 27101 for questions and orders, call 336-721-7387 or visit https://www.oldsalem.org/t-bagge-restaurant-rfp/
The Tavern in Old Salem – 736 S. Main St., Winston-Salem, NC 27101 For reservations, call 336-722-1227 or visit http://thetaverninoldsalem.ws/