Posted September 27, 2023
By VALERIA PALLADINO
BARCELONA, Venezuela — "Next destination: Aeropuerto Internacional de Barcelona."
Once you hear the words: expect the unexpected, and keep in mind, this is not your typical leisure travel experience. Most husbands will be delighted to hear: no shopping malls in the itinerary, and if you want my personal recommendation, warn your wife a few weeks in advance. If you have one. There are many reasons to visit Barcelona in Venezuela and shopping is not one of them. But I'll tell you what is. I'll do you one better; I'll plan this trip for you. Barcelona is warmth in every sense of the word — people, landscapes, and culture will have you surprised. Plus, Latins really do know what it means to have fun.
Friday at noon (12 p.m.)

Upon arrival at Aeropuerto Internacional de Barcelona there will be lots of people; and not many flights.
To check in at immigration, not many cashiers. Even so, everyone is attentive and willing to help. The process is a little tedious as there's not many cashiers, so the line takes a while. But you'll be surprised that either way, once you're in and pick up your bags, it's a matter of minutes until you're out.
And after one or two flights, I know what you must be thinking.
Los Asadores (arrival: 2- 2:30 p.m.)
Hungry people tend to be irritated people. So first, let's fix this.
Entering "Los Asadores" you will see the grill and cooks right in front of the tables preparing the orders for everyone to see.
The setup is elegant: yellow lights, dark colors, paintings on the walls, Mediterranean lamps hanging from the ceiling, and wine… lots of it. In the background, there's music coming from the corner of the room, where a man is playing the saxophone.
As for the food, the specialty is steak, but there's all kinds of meats and seafood. A pro tip is to order basically all the entrees because they are almost better than the main courses. But if you're really getting in character, order the "arepitas", a Venezuelan dish, as part of your entrees.
Apart from the grill, some of the plates are also prepared right in front of you. The Caesar salad for example is prepared for you to see the ingredients and how it is done.
Food arrives quickly, and prices are in the range of $8 to $55 per plate. The U.S. dollar is the most common currency. A lunch for three people, including dessert and coffee will be around $140.
Eurobuilding Hotel (4 p.m.)
Now that we can judge properly, and have a full stomach, it's time to get settled in, take a shower, and drop off the luggage at the hotel.
Coming in through the glass doors, there's a lobby bar and the check-in station. The lobby is very spacious with modern and sophisticated decorations. The pool area includes another bar and a lot of wooden decors, going for a "beachy" look. Outside there's several seating areas and social gathering spots with cushioned seats.
The "Eurobuilding" hotel is the newest hotel in Lecheria, five stars rated. It is located in El Morro, Barcelona (9.3 miles away from the airport).
Through your window you'll be able to see either mountains or the hotel pool. The "Aqua Restaurant" opens at 6 a.m., where you'll have your included breakfast, in a buffet with a view to the pool and further down, the beach.
El Parador (6:30-7 p.m.)
After being settled, showered, and all dressed up, it's time. Let's drink!
Our next destination is a Spanish cocktail restaurant at the marina shore, where you can see yachts and boats bursting with loud music through the canals. "El Parador" offers both indoor and outdoor seating.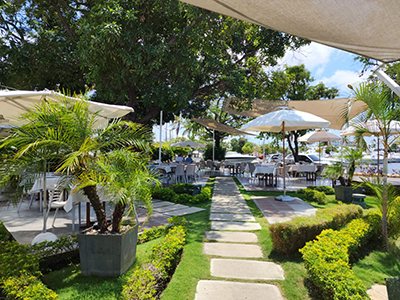 Seat outside, under the light-up churuata, surrounded by palm trees and viewing the marina more directly.
Pro tip: whenever you hear the Spanish song "Silverio," it means one thing: someone ordered the "pescado a la sal," a dish of grouper fish, served on a plate surrounded by fire. It sounds like Pasodoble, if that helps. A music genre characterized by a rapid march that soldiers used to regulate their pace.
Hours can pass by listening to live music, and watching the boats navigate during the nighttime or watching the sunset if you arrive a little earlier (around 6 p.m.) but once midnight hits it starts to shut down, which means… next stop.
Drums (12:30 a.m.)
I know the hours might seem a little crazy, depending on where you're from, but Latinos tend to go out until the morning, meaning 6-7 a.m., on a regular weekend, so keep that in mind.
Next door, just a couple minutes away, "Drums," is where you'll start to really experience the culture. The music is local and mostly salsa. This place is known for karaoke and live music.
Drums opens "until the body holds up", as they say. It's the place to stay up dancing and drinking until your feet hurt. You'll see groups of friends, couples, and even women alone dancing passionately to the beat of the salsa.
And on that note, it's enough drinking for the day. The time to get back to the hotel has come. Make sure to get a good 8 hours of sleep because tomorrow is intense.
Saturday- Breakfast (9 a.m.)
This morning you'll have no "resaca." The Latin way to say: I hope you're not hungover. Good thing breakfast is included, so you don't have to go too far just yet.
Entering the buffet, you see the pool is already filled up with people swimming and tanning. Of course, your focus is on the variety of sweet and salty options to choose from at the center table and on the chef waiting to make your eggs of choice.
Isla de Plata (11 a.m.)
You haven't been to Barcelona if you didn't go to the beach. Your boat or yacht will be waiting for you at the marina, "Marina Imbuca."
Be sure to stop along the way for your preferred drinks and snacks. Any marketplace would work, but one option is "Casa de la caña."
The mariners will assist you as soon as you arrive and make sure everything is in place and ready to go. On the way to Isla de Plata, you will see clear water and mountains. If you're lucky you'll even, get a glimpse of some dolphins passing nearby. The view is worth the 30-minute trip. Take the time to appreciate it.
Isla De Plata is a small, yet beautiful, island. You'll see tranquil waters, white sand, lots of boats, and most likely hear reggaeton. Small boats will wander by filled with tourists watching the mountains and the overall scenery.
Venders will surround you every hour or so, to sell you oysters or ice cream. If you do like oysters, they will set up next to you and start cutting them up. They will hand them to you fresh and give you a lime to squeeze on them.
When lunchtime arrives it's time for the best part. Fish at the beach is another level. You can order from your boat, and they will bring it directly to you. Normally, the fish comes with fried plantains, known as "tostones," and salad.
Pro tip: Do not miss this under any circumstances. Unless you do not like fish.
El Faro (4 p.m.)
There's one more beach you must visit, the less tranquil one.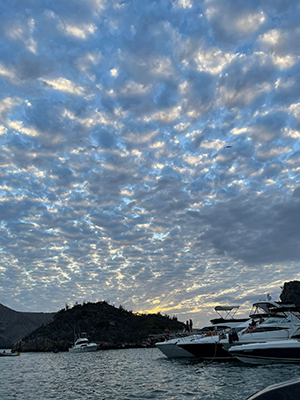 El Faro is a beach with crystalline water. It's usually filled with boats, and especially on a Saturday afternoon. It's the perfect place to disconnect and enjoy the view.
Because Barcelona is small, you'll notice that it seems like everyone knows everyone. Boats are next to each other, and people pass from one boat to another. There are also women dancing, some explicitly, in most of them.
There are options to get on the "banana," rent watercrafts or ride the rafts. As it starts to get dark, and the night approaches, it feels like this is a party on its own. The boats all have colorful lights and are lined up next to each other. There's a mix of Latin and house music and everyone is suddenly on just one of the boats: the biggest one.
The ride back is breathtaking as you can see Barcelona's most impressive neighborhoods. You'll see mountains, huge, gorgeous houses, and residences.
Casino (9 p.m.)
Still in beachwear, it's time to test your luck. Next stop, the casino at the Maremares Hotel.
The place of endless possibilities. Tables filled with people praying they play their cards right.
Flashing colors stand out from all directions of the room from all sorts of machines. It is generally packed, and people are seated drinking, or eating, or both. Then there's also those who won't leave the machines all night.
You overhear someone talking about the raffle, apparently for a car. Who knows? You might leave there with a new Fiat 500e.
Marea (2 a.m)
Hopefully it's time to celebrate that good luck, or maybe drink to forget. Whichever is the case, Marea is the ideal place to do it.
Marea is a nightclub and restaurant at the beach. The second floor is usually the part where people eat, and at ground level there is a bar on the beach. It becomes an outdoor nightclub where people dance and drink until the morning.
You enter through a bridge directly to the bar, right next to two swings. As you keep walking the floor is sand and there's a space left for people to dance and socialize in, better known as, the dance floor. The live DJ plays right in front of you. The music is normally a mix of house, EDM, and reggaeton. While partying you can always walk to the beach for a little break, to recompose. On several occasions people even go for a swim or to tan right after partying in the morning time.
Imagine being drunk at 5 a.m. and watching the sunrise from the party. It's a unique and gratifying experience. Breakfast is also served right there on the spot.
Calle del Hambre (3 a.m.- 5 a.m.)
After partying there's a little tradition. When you're drunk and hungry for whatever comes at you, there's a place where everyone goes.
This place is "Calle del Hambre", more specifically, this street. It's not the fanciest, but it hits the spot. This street is filled with fast food options and is normally open 24/7. There are hamburgers, pepitos, arepas, hotdogs and all kinds of food options. Think of it almost like the after party.
Breakfast (9 a.m.)
Before leaving there's one last thing to do. For breakfast, strictly empanadas.
The winery, and marketplace "La Bodeguilla" has the ones you're looking for. Empanadas are made of corn dough and are stuffed with anything you could want. Normally, it's either cheese, ham and cheese, beef, chicken, or fish. After this, you'll be able to leave with a happy memory, if you haven't had enough already.
Departure (Noon)

The weekend is now over, and you are headed towards the airport. In no time you're already lining up for your flight considering there's not a large volume of people inside. All that's left to say is, who would have thought… a place known for economic and political hardness, and depicted as poor and in crisis, would end up being such a pleasant destination.
If You Go
Aeropuerto Internacional de Barcelona, Av. Aeropuerto, Barcelona 6001, Anzoátegui, Venezuela.
Los Asadores, Avenida Américo Vespucio C Golf Plaza Local C-17 Sector, Lechería 6016, Anzoátegui, Mondays-Saturdays, 11 a.m.-11 p.m. / Sundays 11 a.m.- 6 p.m., $8- $55/dish (three people, around $130, coffee and dessert included).
Lechería 6016, Anzoátegui, $196/night, double room, king bed, breakfast included, pool, bar, restaurant, business center, swimsuit store, gym nearby, Playa Lido, 1.1 miles, Playa Cangrejo: nine-minute walk, Airport: 9.3 mile.
El Parador: Avenida Americo Vespucio, Complejo Turistico El Morro Marina Américo Vespucio, Lecheria 6016, $30-$50/person|8 a.m.-12 a.m.
Drums: Av Américo Vespucio, Lechería 6016, Anzoátegui,, $2- $20 depending on drink, beers start at $2, whiskey $20, Wednesday- Sunday 6 p.m.- 4 a.m.
Marea: Escuela de Kitesurf Rancho Mall, Lechería 6016, Anzoátegui, $50-100 bottle, $8-$20 per drink.
Calle del Hambre: Av Diego Bautista Urbaneja, Lechería 6016, Anzoátegui, Venezuela|24/7|$1-$2/hot dog, $12 family size pizza/grill.
La Bodeguilla: Lechería 6016, Anzoátegui, Venezuela, 7 a.m.- 10 p.m., $4-$5/empanada (huge ones).
---