Posted September 24, 2015
By MELISSA SOTO
It's an early Sunday morning and Camila Monsalve is leisurely drinking a small macchiato at Panther Coffee. Monsalve, a student at Florida International University, is preparing for a microbiology exam. After being asked why she chose to study in Coconut Grove, her response was simple.
"It's the only place in Miami where you can get that little town feel."
Miami is home to diverse cultures, delectable food and an upbeat nightlife. Walking up and down Ocean Drive on South Beach or strolling through parts of Brickell near downtown is a great way to take in the city sites. But what if you want something a little different, something a bit off the beaten path where time ticks just a tad slower on the clock? The answer is Coconut Grove.
Coconut Grove is one of Miami's original neighborhoods founded in 1825 by Bahamian immigrants. Located on the bay, this quaint village is native to marinas lined with sailboats and oceanside bars serving fresh caught seafood daily. "The Grove" as many locals refer to it, offers amazing restaurants, parks, clothing stores, and bars.
Greenstreet Café, located at 3468 Main Hwy, is in the heart of Coconut Grove.
This restaurant is best known for its mouthwatering Nutella Filled French Toast priced at $8.50 and the classic Eggs Benedict served with a flavorful hollandaise sauce with a side of potatoes for $12.
Locals and tourists alike flock this restaurant daily for its extensive breakfast menu and tasty mimosas. This eclectic outdoor/indoor restaurant allows for the perfect people watching spot, which usually includes cyclists, runners and dog walkers.
Riley Banciella, a Miami local, and tourist Sumire Kawaguchi visiting from Osaka, Japan, shared the Eggs Benedict for brunch.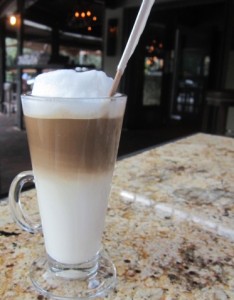 "Although I look like I can eat a lot, this dish was the perfect size for me. It was filling in just the right way," said Banciella.
"The portions are much larger here than in Japan but made with plenty of flavor," exclaimed Kawaguchi.
Gastronomic delights can be found for breakfast, lunch and, dinner at this café.
Walking off breakfast in this pedestrian-friendly neighborhood is quite common. Located about a mile north of Greenstreet Café, visitors and Miami natives can spontaneously loose track of time while making their way to the famous David T. Kennedy Park.
Conveniently situated on the water, Kennedy Park is the perfect spot for a day full of outdoor activities. Volleyball games and bike rentals are but a few pastimes that can be enjoyed there.
The soft turfed walking paths throughout the park lead to a picturesque water front view. As sailboats effortlessly make their way through the bay, park goers can bask in the beauty and tranquility of the scenery.
Kennedy Park is home to one of the most refreshing frozen lemonades South Florida has to offer. "A.C.'s Icees" has been a signature part of Coconut Grove for more than 30 years and is a must when visiting the area.
Although A.C. sells a variety of items from his well-known food truck, it's the frozen lemonade that is the true crowd pleaser.
If the weather does not seem to be cooperating for a day at the park, then the shops at CocoWalk is a nice alternative. Set in the center of the hippie atmosphere of Coconut Grove, CocoWalk provides a groovy shopping experience with surf shop, Maui Nix and fashionable boutiques like Divine Clothes. Boutiques throughout CocoWalk can be a bit pricey, but with some perseverance a sale can be found.
Popular restaurants such as the Cheesecake Factory and Cinepolis Coconut Grove, the local movie theater, are located on the second and third floor of the shopping center.
As far as the bar scene is concerned, Fat Tuesdays, located within CocoWalk serves more than 20 mixed drinks accompanied by a stunning view of the hub of Coconut Grove.
On a local note, Coconut Grove is also home to college night where young adults go out for a good time. Each Thursday night, Sandbar Grill, Barracuda Raw Bar and Grill, Tavern In The Grove, and Mr. Moe's Restaurant and Bar welcome college students for a memorable time at cheap prices. Each bar is unique but the crowd favorite is Mr. Moe's.
Bar goers line up for Mr. Moe's famous "Moosejuice," a 32 ounce sugar-filled concoction consisting of every type of liquor available. For only $10, this could be the perfect drink to share with a few friends.
Mr. Moe's transforms from a daytime restaurant to a ritualistic house party with different DJ's every week. The music varies from old school hip-hop to radio music and even recent electronic tracks.
Coconut Grove has plenty of gems waiting to be discovered by visitors from all around the world. Although the time does tick a bit slower, there is always something to do. All in all, this bohemian styled suburb is a hidden escape from the rest of the famous Miami party scene.
If You Go
Panther Coffee — 3407 Main Highway, Miami, Fla. 33133, 305-677-3952
Lodging — Sonesta Coconut Grove – 2889 McFarlane Road, Miami, Fla. 305-529-28282, average per night: $149
Greenstreet Café — 305-444-0244
David T. Kennedy Park — 2400 S. Bayshore Dr., Miami, Fla. 33133
Moe's Restaurant and Bar — 3131 Commodore Plaza, Coconut Grove, Fla. 33133, 305-442-1114
Upcoming Events: http://www.coconutgrove.com