Posted September 23, 2020
By KARLI FEINSTEIN
TOKYO— Although home to the oldest monarchy dating back to 660 B.C., the city of Tokyo feels as if one stepped into a futuristic society. Home to more than 35 million people, the city is split up into 23 "special wards" that form Tokyo's foundation. From Central Tokyo to East Tokyo, the 5,200 square mile radius makes it easy to transport anywhere by using the Tokyo Metro. Visiting the famous Meiji Shrine, shopping in the world's busiest Tsukiji Outer Market, or exploring the extreme teenage fashion culture of Harajuku, Tokyo attracts every kind of tourist. Rich historic dynasties, meshed with a new wave technological society, creates the cities' spectacular charm. Whether its politics, fashion, or overall culture, Tokyo has learned to adapt and create a one of a kind city; arguably one of the best in the world.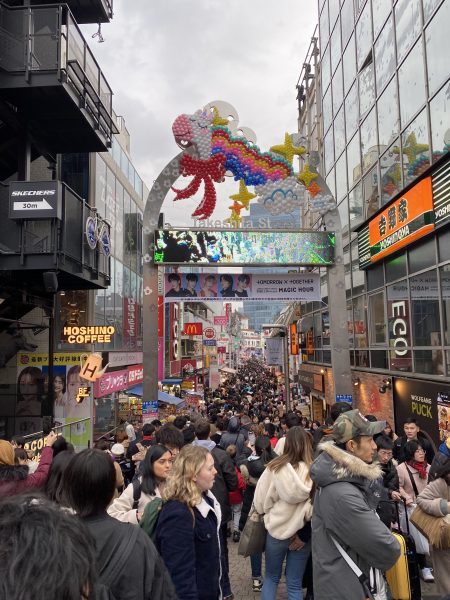 Friday
2 p.m. Harajuku
After landing and getting settled, visitors should head directly to the Harajuku district to enjoy the ultimate culture shock. Harajuku is home to Japan's most extreme teenage culture and fashion trends. In between Shinjuku and Shibuya on the Yamanote line, the colorful neighborhood exudes Japan's kawaii culture. Takeshita Dori (Takeshita Street) is the center of Harajuku's teenage kawaii culture. The street is lined up with trendy shops that sell things like clothing and make up. The street offers food stands as well selling the most Instagram-worthy snacks like fried potato chips on a stick and rainbow cotton candy.
4 p.m. Omotesando
Located right next to Harajuku, Omotesando is known as the "high end" avenue. Omotesando caters to an older and wealthier crowd. With hundreds of cafes and restaurants, the avenue also offers a shopping mall with famous Japanese brands like "Edition." There are more than 100 shops within the mall, which is bound to make a person hungry from exploring. Mr. Farmer is a farm-to-table vegetable café with the absolute freshest ingredients. Opened in 1994 the restaurant includes vegan, gluten-free, vegetarian, and power protein options for visitors. Omotesando is a great place to go if you're looking to shop some local Japanese brands and eat healthy plant-based food inspired by Japanese farmers. Omotesando is only a five-minute walk to the Meiji-Jingumae station which brings us to our next destination.
6 p.m. Meiji Shrine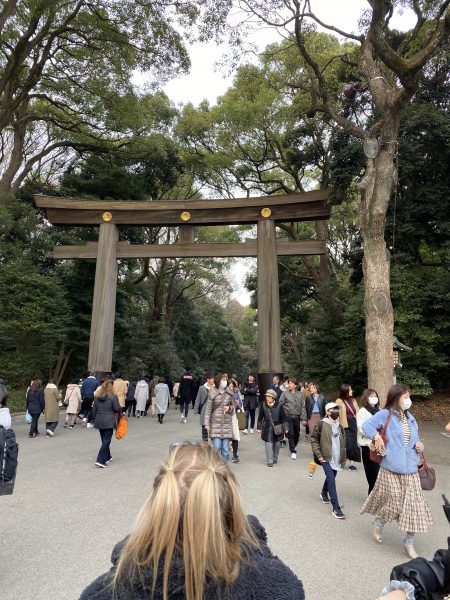 One of the most famous historical landmarks in Tokyo built in 1920, the Meiji Shrine is dedicated to Emperor Meiji and Empress Shoken. Emperor Meiji was the first emperor of modern Japan and reigned during the Meiji period. During his reign, Japan became the modern and westernized society we know of today. With both an east and south entrance the shrine expands from Harajuku station to Yoyogi station. The Meiji Shrine is a great attraction to visit in order to get a brief history lesson while taking a beautiful stroll through the 100,000 donated trees which make up the Meiji Jingu forest. Tourist can participate in shrine activities such as making offerings at the main temple.
8 p.m. Shibuya
After the long day of shopping and getting to know Tokyo's past and present culture, a great way to end the night is to visit and grab a bite by the famous Shibuya crossing station. One of Tokyo's busiest districts; the beauty of witnessing 2,500 people running in unison across an intersection in front of the stations Hachiko exit, is something everyone should see in their lifetime. Filled with neon lights and tons of department stores, Shibuya will catch the eye of any tourist. For dinner, go to Uobei Sushi. Uobei sushi is a chain restaurant that started the trend of ordering sushi through a touch screen machine that instantly delivers the dish as its purchased. Costing around 100 yen (about $1) per roll, Uobei sushi is a fun, cheap restaurant guaranteed to elevate your Tokyo experience.
Saturday
10 a.m. Mori Art Museum
Founded by developer Mori Minoru, the museum displays contemporary art with a twist of urban planning. The museum offers exhibits that show future development blueprints of new buildings and other types of architect. Located in Roppongi Hills, the museum offers contemporary art sections for local Japanese and Asian artist. Most of the exhibits are simulated and interactive, which makes the visitor feel a part of the art. The exhibits have a purpose to question culture and society through creation. On the 52nd floor, the museum offers an observation deck where visitors can spend a few minutes gazing at the beautiful city views.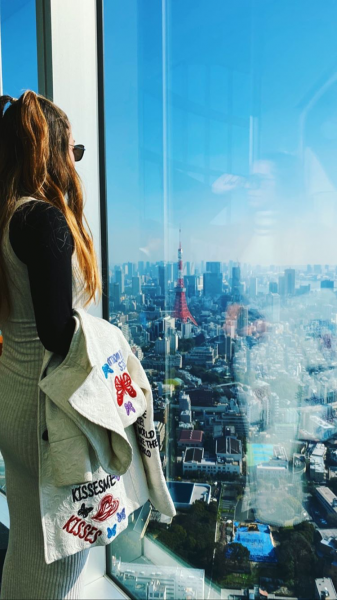 1 p.m. Tokyo Tower
After the museum head over to Tokyo Midtown to visit the famous Tokyo Tower. The tower is self-supported and resembles the Eiffel Tower in Paris. Standing at 333 meters high, the tower represents Japan's economic power. You can pay to go up the main deck of the tower at 150 meters or the top deck of the tower at 250 meters. Due to the tower's location of being in the center of Tokyo, the view from the top deck looks over the whole entire city. One of the best observation decks in Tokyo with a view so amazing, you can sometimes see Mount Fuji.
3 p.m. Roppongi
Roppongi is an increasingly popular district in Tokyo known among foreigners and Japanese young adults. Roppongi has a major night life scene that offers lots of clubs and bars to the public. Many art museums and luxury hotels have popped up around the area causing the development of the city to expand. Both Tokyo Midtown and Roppongi Hills are located within the Roppongi district. After touring the museum and Tokyo Tower, take some time to walk around the district and explore what it has to offer. For a late lunch go for ramen at JR Tokyo ramen street. JR Tokyo ramen street is a strip of amazing ramen restaurants located in an underground metro station. Eating here will help you understand Roppongi's grungy yet sophisticated culture.
6 p.m. Robot Restaurant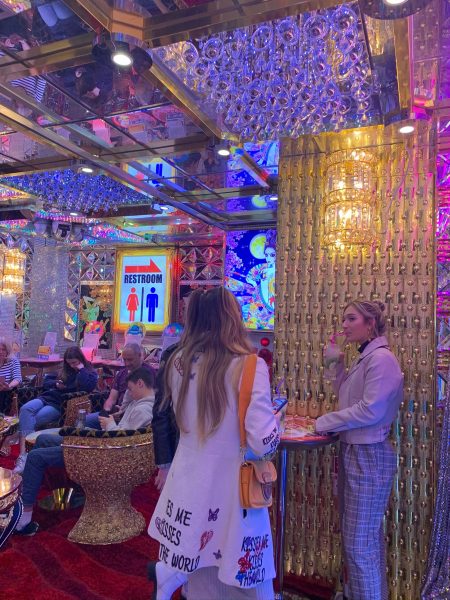 The Robot Restaurant is a unique experience that provides audiences with a live show while they dine. Upon your arrival after purchasing tickets, the staff will bring you to a waiting room before the show begins. In the waiting room staff are in costumes serving drinks and snacks. Once the show is ready to start the audience is led to their seats. The show tells the story of Japanese culture and stereotypes through the years. As you eat dinner, loud pop music roars through the room while people on stilts dressed in anime break out in dance. The show is 90 minutes and takes plenty of twist and turns along the way. Introducing characters like kung fu panda and robot dinosaurs. The Robot Restaurant is an odd experience to say the least but, if you're in Tokyo, this bizarre attraction is a must.
9 p.m. Golden Gai
After having an interesting time at the Robot Restaurant, ending off the night in the Golden Gai district is the absolute move. Located in Shinjuku, Golden Gai is a street of more than 200 bars and clubs lurking between the alleyways. Golden Gai is usually where the locals go to party but if you know the right places, you'll fit right in. A few of the bars openly welcome foreign guests with signs and menus set outside listing prices in English. Some of the best bars for tourist are Albatross and Bitter Orange. Both bars have a Gothic feel to them and are open almost all night. Similar to speakeasy's, the bars are very low key with minimal people inside. If you're looking to extend your freaky night after the Robot Restaurant, these are the places to check out.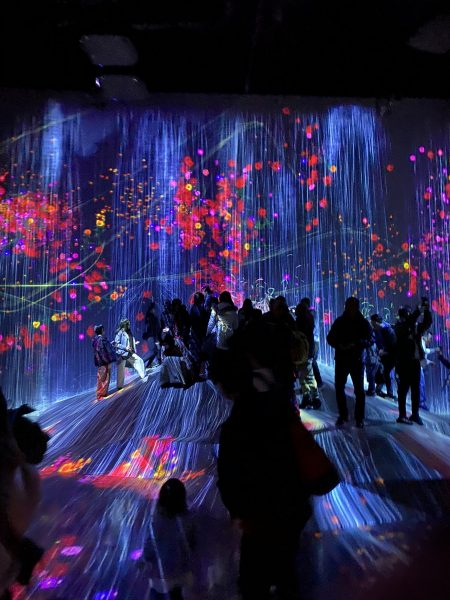 Sunday
10 a.m. TeamLab Borderless
TeamLab Borderless is an art museum with a total twist. The lab is a massive space of artwork all digitally projected among the walls. Artwork with no limits, the artist work together to form one beautiful moving canvas. There are multiple rooms with different themes and artworks throughout the venue. A three-dimensional 10,000 square meter world of moving art. There are rooms filled with massive balloons and even digital animals swimming and crawling around. A trip to TeamLab Borderless, is a visit a tourist will never forget.
12:30 p.m. Tsukiji Outer Market
The Tsukiji Outer Market is placed across the street where the original Tsukiji wholesale market used to be. If you're in Tokyo, this is a must. The market consists of blocked off streets with people selling fresh produce, seafood, meats, anything you can think of. If you're coming to the market you must try the fish. Some of the best sushi in the world is sold and prepared right here in this market. Locals who don't speak English are yelling out trying to sell you everything and anything, It's an experience. After walking through the market and buying some goodies, lunch at Sushi Dai is the last stop on the list. Sushi Dai is a Michelin star restaurant located within the Tsukiji Market. People line up for hours just to enjoy the chef's choice of selected fish, some people starting to wait at 5 a.m.! The preferred way to order is omakase style where the chef prepares his favorite fish selection of the day. From toro, to uni, to shrimp, a tourist will never have better or fresher tasting sushi in their life.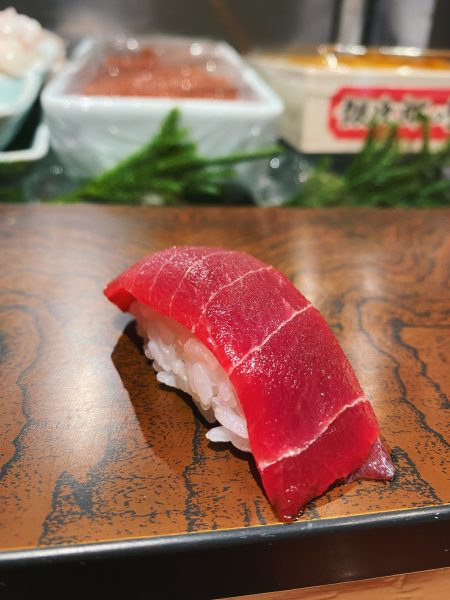 If You Go
Tokyo Metro
Tokyo Subway 24-hour Ticket – Adult: $8, Child: $4
Tokyo Subway 48-hour Ticket – Adult: $12, Child: $6
Tokyo Subway 72-hour Ticket – Adult: $15, Child: $7.50
https://www.tokyometro.jp/en/ticket/travel/index.html
Mr. Farmer Omotesando
Expect to pay around $20 for your meal.
https://mr-farmer.jp/locations/
Meiji Shrine
Free entry for Meiji Shrine.
$10 fee for Meiji Jingu Museum.
https://www.japan-guide.com/e/e3002.html#section_admission
Uobei Sushi
Expect to pay around $1 per plate/roll.
https://www.tripadvisor.com/Restaurant_Review-g1066456-d3871559-Reviews-Uobei_Shibuya_Dogenzaka-Shibuya_Tokyo_Tokyo_Prefecture_Kanto.html
Mori Art Museum
Adult: $16
University / high school student: $11
Child (age 4 up to junior high school student): $6
https://www.mori.art.museum/english/contents/universe_art/access.html
Tokyo Tower
Adult: $12
Highschool:10
Jr. Elementary school: $7
Children: $5
https://www.tokyotower.co.jp/en/price/
Robot Restaurant
Price for one adult is around $50.
https://www.bookety.com/tours/334/23080P1?gclid=CjwKCAjw74b7BRA_EiwAF8yHFINGqypRVQcX-NwJJqiidTTkmuWLisZ0C0XpXCIPUk9lsO8g1n0HoxoCEcsQAvD_BwE
Albatross
$5 cover charge.
https://www.tripadvisor.com/Restaurant_Review-g14133667-d9960351-Reviews-Albatross_G-Kabukicho_Shinjuku_Tokyo_Tokyo_Prefecture_Kanto.html
Bitter Orange
$5 cover charge.
https://tokyocheapo.com/restaurant/bitter-orange/
TeamLab Borderless
Adult: $30
Children: $10
https://ticket.teamlab.art/#/order
Sushi Dai
Omakase set can cost you around $100-$150.