Posted October 3, 2019
By NAOMI FEINSTEIN
PORTLAND, Maine — With its charm, cobblestone streets and unique architecture, Portland is becoming a popular destination for people to take a quick weekend getaway. In the heart of New England, Portland offers locally sourced, fresh seafood and ingredients from all over the state. For majority of its history, Portland was a quiet city home to generations of locals along the coast. It has blossomed into a bustling city filled with young and creative individuals from all over the country. The city of 67,000 people is home to a sea-side community and a vibrant culture with its arts, local music and historical landmarks.
Friday
12 p.m. – Portland Lobster Company
In Portland, a must-have is a fresh lobster roll and none is better than Portland Lobster Company. The restaurant sits in the heart of downtown right, along the water, with the smell of salt in the air and the seagulls flying high in the sky. It may be a bit overwhelming when first walking in with the line of people out the door, yet the ordering is easy. Start out with an order of steamers before digging into the meaty lobster between a buttered hot dog bun. Of course, each lobster roll is accompanied with delicious fries and coleslaw. Weather permitting, sit outside on the deck because that is the true Maine experience. During the summer time, there also will be some live music on deck to accompany the great, fresh seafood.
1:45 p.m. – Quick treat at The Holy Donut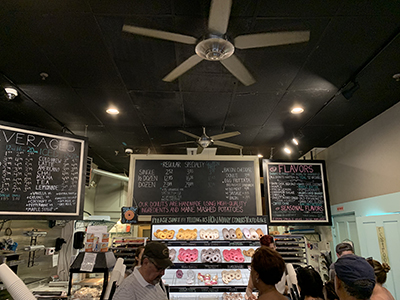 The Holy Donut, established in 2012, is famous for its homemade, potato-based doughnuts. The moist and unique treats range from classic flavors of pure vanilla glaze and sea salt dark chocolate to toasted coconut. The doughnuts sell out so fast that the store is forced to cease operations for the day. In that case, make sure to check both locations in Portland. For those with a gluten allergy, do not worry because gluten-free options are available.
2:30 p.m. – Shopping around town
Portland is home to its collection of shops filled with unique and vintage items. One of the local favorites is Stonewell Kitchen, a charming houseware and gourmet food store with free food samples and chef-led cooking classes. Venture into Portland Trading Co., a general store that sells women and men's clothing from local, independent designers, books, and vintage items like Huberd's shoe grease for $8 or a Maine flag patch from 1901 for $10. Also, all over town there are stores dedicated to selling Maine souvenirs, such as Lisa-Marie's Made in Maine gift shop. It offers a variety of different souvenirs like funny T-shirts that read, "Got Lobstah?" or beautiful gift items, such as painted lobster wineglasses.
6 p.m. – Dinner at Fore Street
Fore Street, which opened in 1996, is located just a block from the harbor where Portland Lobster Company is located. With its flavorful meat and seafood, Fore Street is one of the hottest destinations in New England. It was named as a semi-finalist for "Outstanding Restaurant" by the James Beard Foundation out of hundreds of restaurants nation-wide. With its open kitchen concept, restaurateurs feel as though they are with the chefs preparing their meals. Although the menu changes seasonally, the turnpit roasted organic Maine half-chicken and the wood oven roasted whole fish, among others, are the signature items featured on the menu year-round.
8 p.m. – Listen to tunes at Blue
After dinner, head to Blue, an intimate live music venue with local Maine artists sampling a great variety of music. It was mostly recently named Portland's Best Jazz Venue. For those who would like a nice, after dinner snack, Blue offers a variety of artisan cheeses from The Cheese Iron, located in Portland, accompanied with marcona almonds, honey and a baked baguette for $10, $14, and $18 depending on the number of cheeses one orders.
Saturday
9 a.m. – Tandem Coffee and Bakery
Opened in 2014, Tandem Coffee and Bakery offers delicious baked goods and fresh coffee roasted in house. The shop is located in a building from the 1960s that was once home to a gas-station and a laundromat. Although you may be wowed by Tandem's aesthetic, you are going to love your coffee of choice with homemade almond milk served in a tandem-bike designed cup. Accompany a drink with a delicious pre-breakfast snack like a straight-out-of-the-oven sticky bun or a slice of blueberry crumb pie.
10 a.m. – Hot Suppa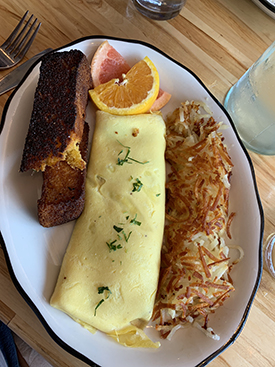 Right across the street from Tandem is Hot Suppa, a New-Orleans style restaurant with an excellent breakfast menu. Named as one of Bon Appetit's favorite neighborhood restaurants, Hot Suppa is one of the most popular restaurants in Portland since it first opened in 2006. It is a cozy restaurant with Maine-inspired art on the walls, brick-exposed walls, wooden-booths and high ceilings. Some of the local favorites include southern classics, like fried chicken and waffles and its homemade gluten free cornbread. Try the fluffy egg scramble with a choice of vegetables and cheeses or the specialty corn beef hash made out of shredded corn beef, potatoes, onions and carrots. The coolest part is that the restaurant buys its ingredients all from local vendors in Maine like We Compost It! in Scarborough and Grandyoats in Brownfield, just to name a couple.
12 p.m. – Maine Narrow Gauge Railroad and Museum
Hop aboard the train along the historical two ft gauge railroad for a scenic train ride along Casco Bay. After the ride, head to the museum to learn more about the historical railroad through the variety of exhibits and activities for kids. The museum includes preserved railway equipment like old-time rail cars and steam-engines. The museum is open from April to late-October, but it holds seasonal, themed events like the Polar Express for children and families to enjoy.
2 p.m. – Duckfat
On the east end of town, you can smell the French fry aroma seeming out of Duckfat. The restaurant is famous for its Belgian french fries cooked in duckfat, the restaurant's namesake, tossed with a specialty seasoning and served in a cone with a choice of dipping sauces. Chef and owner Rob Evans, a James Beard Award winner and three-time "Chopped" champion left his critically acclaimed Maine restaurant Hugo to open this fry joint. Although the 25-seat restaurant is famous for its fries, try the overnight duck confit panini made with bread from Sorella's Bakehouse in town topped with grilled cabbage, pickled daikon and homemade black garlic mayo.
4 p.m. – Lighthouse Lovers Cruise
In addition to the exquisite food, Portland is known for its beautiful lighthouses. No wonder Maine is called "The Light House State." Buy tickets in advance for the Lighthouse Lovers Cruise, a 90-minute ride that showcases lighthouses only accessible by boat around Casco Bay and its neighboring islands. One of the lighthouses featured on the tour includes, the Portland Head Light, the oldest and most photographed lighthouse in the state. In addition, to the historical features on the bay, people usually see seals, lobster boats and sea birds.
6 p.m. – Eventide Oyster Co.
This small Old Port restaurant takes a modern twist on many of Maine's classic dishes. Try the Asian-style Maine lobster stew cooked with coconut and green curry or the brown butter lobster roll on an Asian steamed bun, lauded to be the best lobster roll in Maine. The menu does change daily, but the restaurant always offers a variety of locally sourced oysters. The ambiance cannot be beat with the restaurant's brightly colored design and picnic-table style seating.
8 p.m. – Portland Sea Dogs Game
The Portland Seadogs are not an average minor league baseball team —most people probably could not name their local minor league team. The Sea Dogs, the Double A-affiliate of the Boston Red Sox, has a real fan following. Hadlock Field, home of the Sea Dogs, is a great place to spend a beautiful Saturday night in Portland with the smell of cracker jacks, fans cheering and the crack sound of wooden bats hitting baseballs. However, the Sea Dogs only play from April to September. The field even has its own take on Fenway Park's Green Monster: a 37-foot replica in left field called "The Maine Monster." People also sit in the picnic pavilion in right field to try and catch a home run ball. In terms of the ball-park food, the fan-favorite is the "Sea Dog Biscuit," the Sea Dogs take on the classic chipwich — two frozen chocolate chip cookies filled with Shain's of Maine homemade vanilla ice cream and the magic is brought together all in one bite.
Sunday
11 a.m. – Becky's Diner
Becky's Diner first opened for breakfast and lunch on the Portland harbor in 1991. As soon as you walk in, you will see the counter jam-packed with dockworkers and locals sitting in the green upholstered booths. It is a classic diner with buttermilk pancakes, eggs any style and a variety of different home fries served with cheese, onions or peppers. Others also love the "Commercial Street Sandwich," which is Becky's take on the classic bacon, egg and cheese sandwich on an English muffin. The food is so good that chef and TV personality Guy Fieri featured Becky's on an episode of his show "Diners, Drive-ins and Dives."
If You Go
Portland Lobster Company. – 180 Commercial St., Portland, ME 04101, Hours: 11 a.m. – 9 p.m., Saturday: 11 a.m. – 10 p.m.
The Holy Donut – 7 Exchange St., Portland, ME 04101, 194 Park Ave., Portland, ME 04102, hours: 7 a.m. – 5 p.m., Friday and Saturday: 7 a.m. – 7 p.m.
Fore Street – 288 Fore St., Portland, ME 04101, hours: 5:30 p.m. – 10 p.m., Friday and Saturday: 5:30 p.m. – 10:30 p.m.
Tandem Coffee and Bakery – 742 Congress St, Portland, ME 04102, hours: 7 a.m. – 6 p.m., Saturday and Sunday: 8 a.m. – 6 p.m.
Hot Suppa – 703 Congress St, Portland, ME 04102, hours: Tuesday – Saturday: 7 a.m. – 2 p.m., 5 p.m. – 9:15 p.m., Sunday: 7:30 a.m. – 2 p.m., Monday: 7 a.m. – 2 p.m.
Duckfat – 43 Middle St., Portland, ME 04101, hours: 11 a.m. – 10 p.m.
Eventide Oyster Co.  – 86 Middle St., Portland, ME 04101, hours: 11 a.m. – 12 a.m.
Becky's Diner – 390 Commercial St., Portland, ME 04105, hours: 4 a.m. – 9 p.m.
Blue – 650 Congress St # A, Portland, ME 04101.
Stonewell Kitchen – 182 Middle St., Portland, ME 04101.
Lisa Marie's Made in Maine – 35 Exchange St., Portland, ME 04101.
Portland Trading Co. – 83 Market St., Portland, ME 04101.
Ticket Information:
Lighthouse Lovers Cruise – 170 Commercial St., Portland, ME 04101, buy tickets at https://www.portlanddiscovery.com/tours/lighthouse-lovers-cruise/#sthash.jgBrXWBj.dpbs, Adults: $21, Children (3-12): $16.
Maine Narrow Gauge Railroad and Museum – 49 Thames St., Portland, ME 04101, buy tickets at: https://mainenarrowgauge.org/hours-and-fees train tickets include an admission to the museum: Adults: $10, Seniors: $9, Children (3-12): $6, 2 and under: free.
Portland Seadogs Game: 271 Park Ave., Portland, ME 04102, buy tickets (never sell out) any time after the schedule is released in November at https://www.milb.com/portland/tickets/single-game-tickets.