Posted November 29, 2016
By TAYLORANN MILLER
When the clock strikes midnight, who says you need to settle for a fast food drive-thru? Don't be concerned about the time, rather worry about the kind of food you will eat. South Florida's hot spots have no time restraints when it comes to feeding you the best of the best; you just have to know about them. Miami is one of the cities that never sleeps, so did you think there wouldn't be an after-after-party provided? When dining on a budget, you can still opt for healthier options instead of the dollar menu at McDonald's. Here are some of South Florida's top after hours sites for yummy cuisine.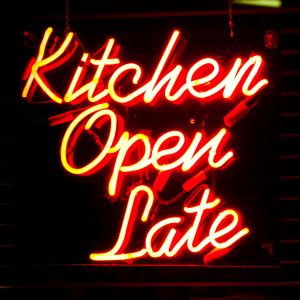 SOUTH BEACH
Big Pink
Big Pink is one of Miami Beach's most popular late-night spots that will satisfy your munchies. Located on Collins Avenue, Big Pink is an easy go to after Story or Radio Bar. Don't know what you are in the mood for? Or does everyone in your group want different dishes? Don't worry because Big Pink has a menu bigger than your face. There are tons of options in this diner-like ambiance while not being overpriced. It has been said that you could go to Big Pink every single weekend for two years and you wouldn't run out of new things to try. The menu features more than 200 items including all-day breakfast.
Bodega Taqueria y Tequila
A Miami Beach spot where you have the opportunity to leave a bar and have food immediately or go to a restaurant without having to step into a bar. Make your way to the silver decked out taco truck inside a restaurant. You'll find the menu on the wall filled with Mexican favorites broken down into Antojitos, Classico tacos, tacos De La Casa, Classico Tortas and Tortas De La Bodega. And let's not forget the cinnamon churros. You'll most likely go for seconds because the portions are small but no need to worry about the price. There are high-top tables and stools all-around for those who want to sit and enjoy. This little restaurant scene is the reason why many don't know Bodega is also a bar. Bodega makes the bar entrance subtle with a blue porta-potty in the corner, keeping it out of the way of the restaurant atmosphere.
Halves & Wholes
Located on Alton Road and just blocks away from Lincoln Road in the heart of Miami Beach, you can find this corner sandwich shop. Halves & Wholes offers café style seating, grab and go selections. Here you can get your sandwich fix no matter the time of day. Think "classic sandwiches with a Miami twist" that is open until 5 a.m. daily. On the menu are 12 different sandwiches If you don't like any of the 12 options, you can choose to create your sandwich instead. Halves and Wholes will also serve up a small selection of soups, salads and homemade ice cream sandwiches and sundaes, with to-go and delivery available.
La Sandwicherie
Who said late-night food had to be unhealthy? If you're in South Beach or Brickell and want to munch out on a healthier late-night alternative, La Sandwicherie is for you. This spot is one of the older late night establishments in town; that has offered sandwiches with a French twist since 1988. Open 24 hours, you have the option of getting mouthwatering sandwiches, salads, croissants and smoothies all for under $10. There are no deep fryers or sauté pans it is all fresh. La Sandwicherie offers the ability to pick and choose any number of sandwich combinations. You pick what will satisfy your late night craving, from your bread to your toppings.
Moshi Moshi
Late-night sushi craving? Then Moshi Moshi is the go-to destination when you're in South Beach. The prices are reasonable, considering you are in South Beach, especially when looking at the quantity and quality of the food. For fresh sushi, and fish at any hour of the night, Moshi Moshi has got you covered. This small, but quaint, restaurant gets the job done with satisfying your appetite. This location has indoor and outdoor seating but since Washington Avenue is hectic with pedestrians and traffic many customers prefer indoors, which is Japanese style. No matter what time you go to the restaurant, it will be full.
News Café
Since 1988, News Cafe has stood on the corner of Eighth Street and Ocean Drive in Miami Beach. Don't be deceived by the name of it, News Cafe is more than just a newsstand, with some coffee and books. This 24-hour European-style café offers a liquor bar, a full-service kitchen, plenty of indoor/outdoor seating and an adjacent store for books. No matter the time, you'll get big portions, tasty food and a great spot to sit and people watch. From breakfast dishes to traditional Middle Eastern dishes, to goat cheese pizza, you name it; they got it. It's a perfect spot near the beach.
Pinecrest Bakery
Got a Colombian craving? Bite into the tradition at any of these three locations in Miami, including Miami Beach. Pinecrest Bakery is a favorite spot in Miami for its 24-hour Cuban food. You have an array of options, from fresh Cuban baked goods to sandwiches, soups, salads, breakfast and, of course, top it off with Cuban coffee. The portions are big and priced at a low-cost. What more could you want from late-night food?
Pizza Bar
Pizza Bar's tagline, "Size Does Matter" describes this unique spot. Who says you can't have a pizza slice the size of your head? Not pizza bar. Located in the heart of South Beach, this rock and roll pizza spot has the biggest slices on South Beach for five to seven dollars. Picture 30-inch XL pies with more than 30 specialty pies or 22 fresh toppings with the option of whole wheat crust. If you are not in the mood for pizza, no worries, Pizza bar also serves oven-roasted chicken wings, gourmet salads with homemade dressings and a munchies menu including jalapeno poppers, chicken fingers, garlic knots and more.
BRICKELL
La moon
End a night out Colombian style. This restaurant in Miami is considered the after hours spot in Brickell, but many make the drive from elsewhere because it's that good. Get your Colombian-style fast-food fix from a range of dishes starting at low prices. And for those of you who watch Travel Channel's Man Versus Food, the Supermoon Perro was featured so you know that must be good – a hot dog topped with six sauces, crushed potato chips and a quail egg.
LITTLE HAVANA
Versailles
For a long 40 years, this restaurant has been satisfying all ages in the heart of the Cuban community. Versailles Restaurant is a well-known restaurant. You haven't experienced Miami until you have gone there. It's has been established as one of the world's most famous Cuban restaurants. Readers of Miami News Times, Travel & Leisure, and several other publications have recognized this establishment. If you can't go to Cuba, then Versailles Restaurant in Miami is your best option. The taste of pure Cuban food, so well prepared. It has gotten to the point where you don't even need to ask if you want to go, it's a given yes. You will not be disappointed with the cuisine Versailles has to offer. If you are not in the mood for hearty Cuban food, then head on over to cafecito window or bakery.
COCONUT GROVE
Flanigan's Seafood and Grill
Flanny's in the Grove feels like you are "home." This regional chain is always full, whether it's with locals or visitors, no matter the time of day. If you are seeking traditional American family style, go there and be served hearty portions. The menu offers an assortment of options from Prime Rib, Steaks, Pasta, Salads, fish, unique Sandwiches, Award Winning Appetizers and oversized Signature Desserts. The prices are reasonable, and the portions are big.  Families, large groups and dates – everyone feels comfortable there. Everything is fresh, "No microwaves are in the kitchen," stated one Flanigan's employee. Another great aspect of this restaurant is every day of the week there are specials, adding onto the already low prices.
If You Go
Big Pink
Bodega Taqueria y Tequila
Halves & Wholes
La Sandwicherie
Moshi Moshi
News Café
Pinecrest Bakery
Pizza Bar
La moon
Versailles
Flanigan's Seafood and Grill