Posted October 3, 2014
By VALERIE LOPEZ
As usual, every Sunday, I find myself standing in between a huge ice cream cone, a small art deco theater and a sidewalk painted with domino figures.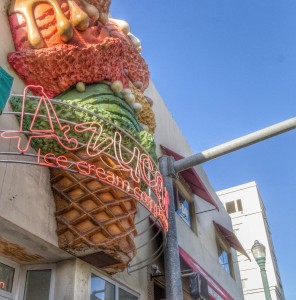 It was mid day and my "Abuela Maria" ice cream was rapidly melting down the waffle cone as I watch an old lady cross the street with a colorful umbrella.
I could hear a salsa beat in the background, as I smiled and thought to myself, "you could only experience this in Calle Ocho."
Calle Ocho is the definition of Miami and, yes, everyone thinks of this city as sand, sea and party, but there is much more to it than that and this street is the perfect example. This path has also been stereotyped. It's located in Little Havana, neighborhood where most Cubans used to live and it's known for its Calle Ocho Festival.
Calle Ocho is not only home away from home for Cubans; it's home for all Latin Americans.
There are Cubans, Nicaraguans, Hondurans, Mexicans and many more immigrants from Central America and the Caribbean, making it a cultural and unique destination.
SW 8th Street, a.k.a "Calle Ocho," runs from South Miami Avenue to SW 107 Avenue. It's a five-minute drive west of downtown and its only 15 minutes from South Beach. It's pretty easy to tell you are close by because you'll start seeing advertising and signs in Spanish.
However, the real action starts from SW 35th Avenue to SW 2nd Avenue. More than 33 blocks lined up with outdoors coffee counters, barbershops, beauty salons, mom and pop stores, local food markets, art galleries, dollar stores, cigar shops, "Botanicas" and bakeries with the best soft Cuban bread, fresh croquettes, guava pastries and plenty of other Latin American cuisine restaurants from Honduran to Mexican. You can find everything in this street.
The best place to start the cultural tour is at Versailles, Little Havana's best-known restaurant. Stand at the counter window outside the place, order a guava and cheese pastry with a "cortadito" with evaporated milk. Make sure you order it with one scoop of sugar or else it will be too sweet. If you pass by everyday, you will find the same characters with their coffee in hand talking about politics.
Versailles is a bit west of Calle Ocho's heart so you will need a car to get there, but once you reach SW 17th Avenue, it's pedestrian friendly.
As you head down the street, let your self be guided by the old men walking to meet at the Maximo Gomez Park, also known as the Domino Park. You will hear the clattering dominoes one block away and as soon as you walk in you will see more than a docent dominoes tables, all of them full. You can stay and play if you are 60 years or older or you can just watch.
For ice cream lovers, there is no better ice cream in Miami than the home made from Azúcar Ice Cream Company. It's impossible to be missed, there is a human size dripping ice cream cone on the façade, right across the street from the park.
You will have a cultural experience while having a dessert. Order the "Abuela Maria," vanilla ice cream with guava, cream cheese and crispy galletas Maria, you won't go wrong.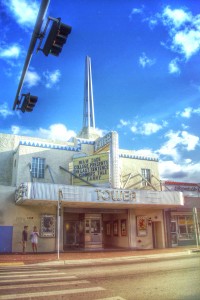 Across the street is the Tower Theater; built in 1926. It's the first theater in Miami-Dade County. You can check out the auditoriums if they are not in use or stay to watch a Spanish movie or any international or artistic film.
Keep walking to Los Pinareños Fruteria, your last stop. This family-owned market has been here for over 40 years and its known for its fresh juices and Cuban tamales.
The place has no doors or windows just a couple of dark green awnings and a fading sign with its name. By the time you get there a juice will be the perfect refreshment to cool down from the Miami humidity, the house specialty includes guarapo (sugar cane), pineapple, green mango and coconut milk.
Pepe Hernandez, along with his father, Angel will be there to take care of you and tell you their story. Take cash because they don't accept credit or debit cards.
Calle Ocho is endless. If you continue walking you will find "El Paseo Catracho," a traditional Honduran restaurant, "Don Pocho," a Colombian restaurant, and "Mi Rinconcito Mexicano," amongst other various Mexican restaurants. At the end of the street, you will reach Brickell, which connects to downtown and Key Biscayne.
It's hard to go wrong in Calle 8 if you are looking for a local and cultural experience; it's like traveling to Central America without leaving the country.
If You Go
Calle Ocho runs from South Miami Avenue to SW 107 Avenue.
Best pedestrian area is located between SW 17 Avenue and SW 4th Avenue.
Versailles Restaurant
Maximo Gomez Park. Domino Club
Azúcar Ice Cream Company
Tower Theater
Los Pinareños Fruteria