Posted November 12, 2019
By SHANIKA ISAACS
Small children scream with the thrill of enjoyment on their faces. Couples excitedly take pictures, posing adorably for a camera. I smiled at the sight of their pleasure, each moment breaking waves of compassion in my heart. Family members cheering on their kids from the sidelines of each ride.
The feeling of adventure and charisma, was the aroma of the atmosphere around me. An overwhelming array of bright oranges, greens and light browns could be seen everywhere. Each booth representing something new, an activity for everyone to take part in.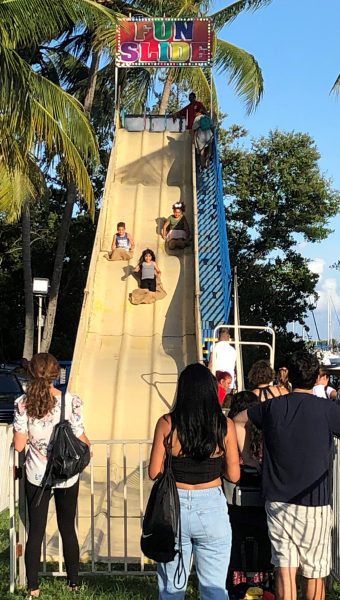 The Pumpkin Patch Festival is an annual event celebration at Coconut Grove's Peacock Park, that attracted local tourists and people of all ages, to take part in the festivities of the season.
The 2019 event was the perfect time to get an early start at pumpkin picking and celebrating the moment with close friends and families.
"At Promo Moxie Inc., we aim at bringing fall to sunny places like Florida. To get people in the groove of experiencing a different season and what it would look like," Carolina Sanchez, the event's managing director, said.
Along the trail to the entrance of the festival, I was greeted by two security guards who kindly led me to the volunteering tent. I quickly introduced myself to the host and stated who I was volunteering with, a guide that I received from my church, in my email upon signing up.
"Miami Church is on the other side of here, on the further end to the right," Mark Anthony, the traffic director, said.
As I digested the directions on where to go, I decided to use the extra time I had since I was early, before reporting to my tent. I really wanted a brief moment to explore my surroundings and to check out some of the attractions I was initially told about.
"Our festival has 5,600 pumpkins, all incorporated in the different festivities. Some of the attractions for this year's event will be the Pumpkin Patch, which is a designated area for people to pick out which pumpkins they want to take home. Carnival, where all of the festival rides are for both adults and kids. We also have Fall Photo Vignettes, Scarecrow Village, Pumpkin Decorating Events, Corn Maze, Pumpkin Beer Bar and the Pumpkin Food Court," Sanchez said.
"As a team of two people, my co-worker and I take pride in hosting this event and we look forward in planning it every year. We get visitors each year from all over, especially the early birds who come down from up North, for the winter seasons," she added.
Over by the Pumpkin Patch, I saw hundreds of pumpkins laid out along the edge of the fenced area. In the middle of the perimeter was a huge display of pumpkins, decorated with unique looking scare crows, with the potential of an Instagram photo shoot. As families gathered around the pumpkins, you could hear them coaching their little ones on how to pose and later advising them on which pumpkin to choose for taking home.
"Come on Michael, say 'cheese' for mommy," a parent said as she smiled herself reflecting the action she conveyed.
Not too far away was the Corn Maze, where parents waited in-line for their kids to enter the maze. As the sun pelted on the skins of those in-line, the discomfort of every adult was obvious, in contrast with the thrill and excitement that beamed in the eyes and general expression of their children. Sounds of laughter and screams were heard from the maze, as kids ran around desperately trying to find the other end.
"It's this way Tommy," I heard a little girl say.
"No! It's the other way," Tommy yelled back.
At 3:45 p.m., I made my way over to Miami Church's booth, where I found out what we were doing for the day. It turns out we were, wait for it, face painting. Cristel Guaico, Miami Church's operations director, greeted me with a smile when she saw me.
As she beckoned me over to her seat, she gave me a quick rundown of all the sample designs and the location of the brushes, among other things that I might need further along the way. Before I was able to register all that was said, my thoughts were immediately interrupted by someone asking me a question.
"Are you ready?" Ralph Junior, another one of our volunteers, asked as he rested his hand on a little girl's shoulder.
I nervously looked at Guaico before she kindly said, "You will be fine. Don't worry about it. Just try your best."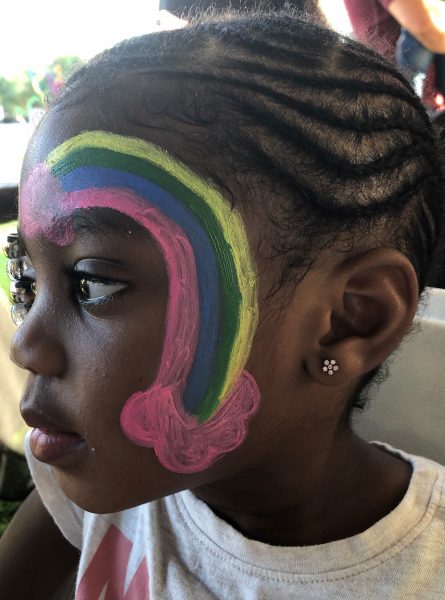 As the little girl walked over, she was accompanied by her mother who ushered her to sit in the chair before me. It was only then that I was able to see a long line of parents waiting with their kids to get their face painted. I gave both her mother and the litter girl a polite smile, before asking what her name was.
"It's Lele," she said proudly, "I want a big rainbow."
As I flipped through the clipboard of designs, I showed Lele two distinct rainbows that I believed best fit her description. She immediately radiated with acts of pleasure, as she repeatedly shook her head up and down, with a bright smile on her face. Even though her reaction was a bit too overwhelming, it made me laugh non-the-less. I was very confident that I could do a great job, as my past graphic designing skills came to light, with each outline of the rainbow.
I first stenciled out the clouds of the rainbow with pink paint, before drawing in the different colors of the rainbow. I tried my best to be steady and to focus on my target goal of making this adorable little sunshine happy. Once I was finished, I ushered Lele to turn her right cheek, as I held a handheld mirror for her to see the finish product.
"Wow! This is pretty," she said, "Thank you!"
I told her she was welcome and surprisingly received $10 from her mother.
"Thank you so much for being here. I saw that Miami Church was at the festival last year. I really appreciate the church coming out to participate. I think they did coloring for the kids last year. I'm not so sure, but thank you for making these holiday seasons memorable for us.
I beamed with as much excitement as I could, vividly seeing myself becoming like the kids around me. I was ready to scream on the top of my longs screaming yes. I face painted a few more of the kids, right until the festival ended at 6 p.m. My legs, back and shoulders ached in pain as I stood up from after sitting for so long. Volunteering was tough work, it seemed.
"Great job, Shanika. I am extremely proud of you. Thank you for being a part of the team. We really appreciate you helping out. In being a part of this team for three years, and only attending two Pumpkin Patch Festivals, I have seen the joy it brings to people. I enjoy helping out and also take advantage of the moment to evangelize with visitors who want to know more about Miami Church. Thanks for all your help and we look forward to see you next time," Guaico said.
Today was a fun experience, many of which I was not expecting. Even though I gave the $15 that I made for the day to my managing director as a donation to the church, I still felt like I made a difference in every child's life through face painting.
As the evening died down, the place got extremely quiet. There was no music, no kids screaming and no one taking pictures. Just the silence. The Miami Church volunteers parted ways, each going in a separate direction.
If You Go